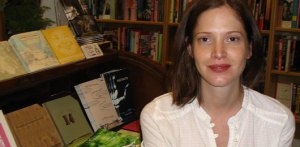 Sarah McNally opened her Nolita bookstore, McNally Robinson, about three and a half years ago. It turned profitable just two years later, and now she is laying plans to build another one, four times as big, probably in Chelsea but maybe somewhere on the Upper West Side.
Ms. McNally, who at 32 has become a beloved figure in New York literary circles thanks in part to all the readings she hosts at her store, said she hopes the new location will be around 25,000 square feet in size, and that it will feature a large event space and a European-style cafe-restaurant that serves wine, coffee and food. She predicts that the new McNally store will cost about $3 million to build and stock.
It's a bold move, opening an enormous new bookstore in Manhattan. Not even Barnes & Noble could hack it in Chelsea—that much became clear in dramatic fashion when it was announced in September that the massive outpost they've held on Sixth and 20th since the early 1990's will shutter this spring. And yet Ms. McNally, a native Canadian who graduated from McGill with a degree in philosophy and worked in book publishing before opening her store, sounds more like an artist discussing an installation project than a businesswoman about to make a $3 million investment.
Her current space in Nolita, she says, just isn't versatile enough to accommodate her ambitions and her impulse to experiment with certain conventions of retail. For instance, in the new shop, she'd like to offer tie-in products with books on certain subjects, i.e., yoga mats near the wellness shelf or wooden spoons near the cookbooks.
"I know the people who work for me like the store, they like working there, but I walk in and I see nothing but flaws!" she said. "Whenever someone says it's a nice store, I say, 'But what about that? Didn't you notice that?'"
She went on: "It was the first store I'd built and there are some things I want to rip up and do over, and I can't, because practically, we would have to close the store for days and days. It's frustrating to be a creative person and to build something that is so static in this way."
Although she doesn't expect to pick a spot or sign a lease until mid-2009, Ms. McNally has already started talking to potential investors about funding the venture and real estate brokers about where to put it.
All the while she and her husband, Chris Jackson, a high-ranking editor at the Spiegel & Grau unit of Doubleday, are four months away from having their first child, and her store in Nolita—which will be rechristened McNally Jackson in July—is undergoing a major remodeling effort. (The 'Robinson' part of the name came from her parents' Canadian book chain, McNally Robinson, though Ms. McNally's shop has no financial relationship to that chain.)
"It's been really wonderful, the store that we're doing now," she said. "Sometimes, I wonder if it's going to be a typical fairy tale, where you want more of the same until it makes you sick."