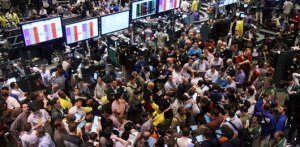 Perhaps in celebration of St. Patrick's Day, the New York Mercantile Exchange will begin a market to trade future and option contracts for credits representing reductions in greenhouse gases and other pollutants. This is part of their Green Exchange initiative formed by a partnership between the Mercantile Exchange and energy brokerage Evolution Markets.
What is this market selling?
In Europe, the European Community (the "government" that issues the Euro) regulates carbon emissions. In the U.S. we haven't gotten around to regulating greenhouse gasses yet. Let's hope we do before much longer. How it works in Europe: Let's say a European company emits 10 tons of carbon dioxide a year, but under the rules they are allowed to emit 25 tons. They can sell their right to emit the 15 tons they are not emitting to a company that that is exceeding its target. But how does a company that needs to buy extra emission allowances find a company that has some to sell? Who sets the price for these emission allowances? The answer is that the market sets the price. On Monday, March 17th, one such market began operating when the New York Mercantile Exchange started selling option contracts for emission credits.
They also provide a marketplace for futures on carbon credits—basically a bet that traders make on the future price of these credits. Futures are an obligation to sell or purchase a fixed quantity of a commodity some time in the future. Futures traders place bets on the price of that commodity in the future. People buy future contracts to reduce their risk. If I had bought futures in gasoline a few years ago, I might be able to by gas for $2 a gallon today instead of $4 a gallon. On the other hand, if the price goes down to $1, I still have to buy the gas at $2.
In the United States, we do not yet regulate carbon dioxide, but we have been regulating sulfur dioxide for a decade and a half. The Chicago Mercantile exchange has been trading sulfur dioxide futures and options since 1993. As Barnaby J. Feder wrote in The Times on November 29, 1992:
The (Chicago) Board of Trade's first environmental products are scheduled to start trading next spring. They will allow utilities to buy and sell permits to emit specific amounts of sulfur dioxide. The Environmental Protection Agency, which chose the board over other exchanges to test the concept, hopes that the utilities that can most efficiently invest to cut such emissions below the levels allowed for their plants will do so and then profit by selling permits covering their unused emissions allowance.
The key challenge, as with all contracts, is to attract enough traders so that anyone can get a competitive bid or offer at any time. And, as with other contracts, the exchange hopes that local traders will add liquidity to the market by buying and reselling the contracts in an attempt to profit from changing perceptions of their value as the specified date for delivery of the insurance risk or pollution permit closes in.
While government in the U.S. does not yet regulate carbon dioxide, people in the U.S. have already begun to buy "carbon offsets" to reduce their own "carbon footprint:" In all likelihood sometime in 2009, we will begin to regulate greenhouse gasses here in the United States and the value of CO2 allowances will grow dramatically as we get serious about reducing global warming. In the meantime, the Mercantile Exchange is getting a head start on this new business.
The Mercantile Exchange's partner is a firm called Evolution Markets. This is a private firm that specializes in Environmental Markets. According to their Web site:
Evolution Markets is the world's highest volume environmental broker, having facilitated more than $50 billion in trades of environmental commodities, including more trades of Certified Emissions Reductions (CERs) than any other broker….Evolution Markets has been at the forefront of global greenhouse gas emissions market development, assisting local, national and foreign governments in designing effective and efficient carbon markets. We have also facilitated trades that have met some of the market's most important milestones – including the first trade of Assigned Amount Units (AAUs) under the Kyoto Protocol's "International Emissions Trading" program, the first brokered trade of EU carbon allowances…
A number of the graduates of the Masters Program I direct at Columbia's School of International and Public Affairs work for another company in the environmental securities business called Ecosecurities. According to their Web site:
EcoSecurities is a leading company in the business of sourcing, developing and trading emission reduction credits. EcoSecurities structures and guides greenhouse gas emission reduction projects from beginning to end, working with both project developers and buyers of emission reduction credits. EcoSecurities works with companies in developing and industrialising countries to create emission reduction credits from projects that reduce emissions of greenhouse gases. EcoSecurities has experience with projects in a wide range of sectors, including renewable energy, agriculture and urban waste management, industrial efficiency, and forestry.
The field of environmental finance is a fairly new and growing business. Like the rest of the financial service business, some of its best firms are located here in New York City. These firms depend to some degree on the seriousness of the world's governments in regulating pollution. Without firm regulation setting pollutant "caps," the value of pollution rights that are traded will be volatile and could decline. I, for one, am counting on the fact that everyone needs to breath air and drink clean water. In the long run, governments have no choice but get serious about pollution control. As the billions of poor people all over the world develop their economies—from China to India to Africa—I am hopeful that in the long run we will learn how to develop in a way that doesn't kill us or make us sick. If we do, then these firms and this exchange can play a key role in making pollution reduction as efficient as possible.
This content was provided for use by The New York Observer, specifically on Observer.com by the scientists and researchers at Columbia University. Any other use of this content without prior authorization from Columbia University and The New York Observer is strictly prohibited.