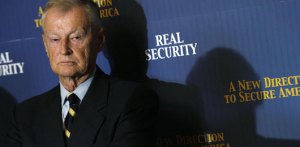 Former National Security Adviser Zbigniew Brzezinski seems to think that departed Obama foreign policy adviser Samantha Power got a raw deal.
In response to a request for reaction to her resignation earlier today, the office of Brzezinski—another of Obama's foreign policy advisers—relayed the following statement: "I think an expression of regret for using an inappropriate description of Senator Clinton should have sufficed. And I don't think she should have resigned."
The Obama campaign said Power tendered her resignation on her own the morning after the publication of an interview with a Scottish newspaper in which she called Hillary Clinton a "monster."
"She submitted the resignation," said a source in the Obama campaign. "She made this decision on her own to submit her resignation and we accepted it. Obviously, there was a lot of pressure from outside sources. "
But Power seemed to suggest in an interview with Irish radio yesterday that the decision on how or whether to sanction her would be the Obama campaign's, saying, "I think that's coming today. I suspect the guillotine is hanging over my head."