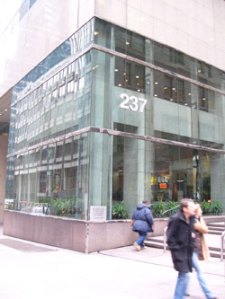 As the speculation around Bear Stearns turns from when and if to how and by whom, the below excerpt from The Observer's John Koblin shows just how far the investment bank has tumbled in little over a year. The excerpt is from a story dated Jan. 21, 2007.
When it comes to the relentless pursuit of prime Manhattan real estate in the last six months, Bear Stearns is unmatched.
After taking 240,000 square feet in two leases last year, the I-bankers are closing in on a 106,000-square-foot expansion at 237 Park Avenue, according to three sources…
Bear Stearns already has 148,000 square feet at the Park Avenue Atrium at 237 Park, and will expand by taking space once held by Revlon.
While most brokers are still rubbing their eyes in the wake of the New Year, Bear Stearns has smashed through the gates with a lease that's the largest deal of 2007 so far.
And if I-bankers are an aggressive group by nature, then Bear Stearns has used that edge to seek out large blocks of space: Add it up, and the firm will have taken nearly 350,000 feet in midtown north in the last six months.
Now that its edge has turned decidedly dull, what will become of Bear Stearns' office space? Or, more importantly, the employees who occupy it?