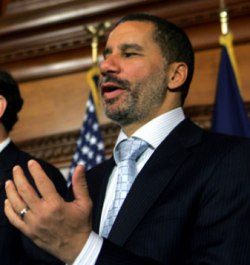 Governor-designate Paterson, speaking at a press availability this afternoon, offered his first remarks on congestion pricing for Manhattan, which Governor Spitzer had hoped to push through the Legislature, amid resistance, by March 31.
Mr. Paterson's comments on the subject were brief: "We're taking a look at it," he said.
Many advocates for the policy are concerned the change in leadership dealt congestion pricing a major blow, as it is unclear whether Mr. Paterson will hold it high in his agenda as he tries to pass a budget. A pet project of the Bloomberg administration, the policy could lose more than $300 million in federeal funds if the Legislature does not pass it by March 31.