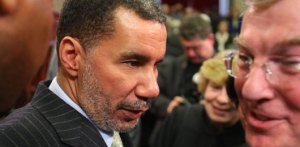 Here's a notable tangent to the David Paterson-adultery story.
David Paterson traveled to South Carolina last October to work on Hillary Clinton's presidential campaign and was accompanied by the woman identified as his former lover, according to this story in the Times Union. (The article doesn't specify the woman, but in other accounts she is named as Lila Kirton.)
Also, both trips were paid for by with state credit cards.
The Associated Press also has a brief account.
Paterson has no public schedule today.
UPDATE: The Times Union just posted this item on their blog explaining that Paterson and his former lover traveled to Carolina, a city in Puerto Rico. Since that was a trip to a legislative forum hosted by Somos el Futuro, it was paid for with state money. Travel expenses related to Clinton's campaign work in South Carolina and Iowa were not paid for with state money.