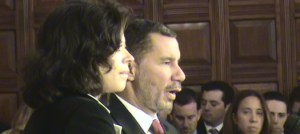 During a nearly half-hour press conference at the state capitol in Albany, David Paterson said he has had affairs with "several" women, two of whom had at one point been on the state payroll.
The governor, who was accompanied by his wife Michelle, said it is a personal matter and did not violate any laws.
He did not name either of the women. One, he said was a "inherited" staff member. A spokeswoman, Christine Anderson, later said she formerly worked for Eliot Spitzer, and began working for Paterson when he assumed the governorship. (Paterson had said the affair ended years ago).
A second woman may have worked for a time on the state payroll, but Paterson said the women did not benefit in any way from the relationship.
He did admit to once calling the employer of one of the women, and said the nature of the call was health related. A spokeswoman later explained that he called to ask that this woman be allowed to work for home for a period of time because of a health issue, which she did not detail further.
"I don't think I violated any laws," Paterson said. "I think we have a marriage like many Americans."
He said he went public with the information to clear his conscience and dampen rumors that have been circulating. A spokeswoman later said Paterson simply wasn't asked with any specificity about the relationship prior to the article that appeared last night on the Daily News website. The spokeswoman told reporters afterwards there was no request to hold the story until after Paterson's swearing in.
Paterson repeatedly painted the issue as a personal matter that many Americans, elected officials, and even some reporters in the room may have experienced themselves.
He said he shouldn't be removed from office simply "for liking someone else" and "not knowing that one day" he could be governor.
Michelle Paterson, wearing a dark suit, stood behind her husband for most of the press conference. She said many marriages "have peaks and valleys" and that "no marriage is perfect."
UPDATE: Errol Cockfield, a spokesman for David Paterson called to say that only one of the woman the governor had an affair with ever worked on the state payroll. Another Paterson spokeswoman, Christine Anderson, told reporters immediately after the press conference that there was another woman who "at one time may have been on the state payroll."