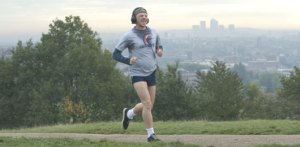 RUN, FAT BOY, RUN
Running Time 101 minutes
Written by Michael Ian Black
Directed by David Schwimmer
Starring Simon Pegg, Thandie Newton, Dylan Moran and Hank Azaria
Well, when you leave Friends, you gotta do something. Not one of the former members of that overrated sitcom has managed to knock the planet off its axis (although Jennifer Aniston did marry Brad Pitt for about 10 minutes, guaranteeing her a few roles in bad movies). Now David Schwimmer has extended his earning potential to include directing. Run, Fat Boy, Run, his feature debut behind the camera, is the kind of genial, jokey fare you'd expect an ex-Friend to helm. If only he and his screenwriter, Michael Ian Black, a fellow American, had kept their original story grounded in their own backyard, the movie might be more than just another BBC travelogue, but transporting it from New York to London makes it seem limp and labored. The laughs are few and forced.
It's a conventional story about Dennis, a nervous neurotic nerd (British comic Simon Pegg) who runs away on his wedding day, leaving his pregnant bride, Libby (Thandie Newton), at the altar. Five years later, working as a paunchy security guard in a women's clothing store chasing down shoplifting drag queens who steal bras and pantyhose, he's a real mess—out of shape and out of rent money. He's such a loser that little children give him the middle finger on the bus. But Dennis still honors his part-time father duties with his son, and he still loves Libby, who has never forgiven him for deserting her in her white bridal gown. "Women remember that stuff," says his doped-up slacker buddy Gordon (Irish comic Dylan Moran), who seems to be acting in a completely different, and much funnier, movie. So Dennis validates his earlier stupidity by trying to win them back by competing against Libby's new squeeze, Whit (Hank Azaria), a rich, handsome American hedge-fund manager with six-pack abs, in a pointless 26-mile marathon. The feeble attempts by the manic, dysfunctional Dennis—hobbling through the streets of London with a beer belly, and with his overweight Pakistani landlord (who looks like a Pakistani Jabba the Hutt) wielding a kitchen spatula as his "coach"—to prove himself a more mature, responsible and manly lover than his buff rival Whit are intended to provide the film's humor, but the notion backfires. I mean, nobody in their right mind would prefer the salami-faced Simon Pegg to the suave and muscled Hank Azaria. Still, director Schwimmer's chief inspiration here turns out to be the casting of Mr. Pegg and Mr. Moran and the decision to let them write a lot of their own stunts. Shaped like a bowling ball, scratching his scrotum on the extended hand of a wooden department-store mannequin, sponsored in the marathon by National Erectile Dysfunction Awareness, Mr. Pegg pretty much turns Run, Fat Boy, Run into a solo turn. By the time he runs the last 11 miles with a sprained ankle, the movie turns into one of those beat-the-impossible-odds-in-excruciating-pain flicks, and there is zero chemistry between him and the luscious Thandie Newton, but it doesn't matter. The film is about male relationships anyway. Clumsy and inept in demeanor but a whirlwind of comic energy, with an air of self-congratulatory winsomeness, Simon Pegg steals this otherwise minor but enjoyably unpretentious little comedy and pockets it like a Mars bar.