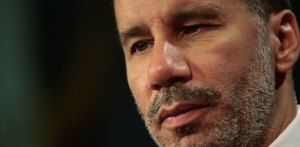 New Yorkers have high expectations for David Paterson, a new Quinnipiac poll shows, with 75 percent believing that he will govern effectively, 46 percent holding a favorable opinion, and only 3 percent having an unfavorable opinion. (The data was collected between March 16 and 18, and one pollster is quoted as saying opinions shifted slightly after news broke of his affairs).
The poll also shows that, given four choices, New Yorkers overall like Michael Bloomberg for the next governor. He earned 29 percent to Paterson's 27 percent, although Paterson leads Bloomberg among Democrats. Andrew Cuomo was in fourth place, with 11 percent. The third most favored choice was Rudy Giuliani, who took first place with Republican voters.
Here's the release:
New York State voters give their new Governor, David Paterson, a strong vote of confidence, with 75 percent saying he will govern effectively and 67 percent saying he will restore trust in state government, according to a Quinnipiac University poll released today. Among black voters, 81 percent say he will govern effectively and 69 percent say he will restore trust in government.
By a 46 – 3 percent margin, voters have a favorable opinion of Gov. Paterson, with 51 percent saying they have not heard enough to form an opinion, the independent Quinnipiac (KWIN-uh-pe-ack) University poll finds. Favorability among black voters is 58 – 2 percent. In a separate question, 65 percent of voters knew the name of the new Governor.
Attitudes about Paterson shifted slightly on the last night of the survey, March 18, after media reports of his marital problems.
With four choices of whom they would like to see elected Governor in 2010, New York State voters say:
• 29 percent for New York City Mayor Michael Bloomberg;
• 27 percent for Paterson;
• 25 percent for former New York City Mayor Rudolph Giuliani;
• 11 percent for Attorney General Andrew Cuomo.
"Gov. David Paterson begins with good wishes. By big margins, New Yorkers think he'll restore public trust – boy, can Albany use that – and be able to govern effectively," said Maurice Carroll, director of the Quinnipiac University Polling Institute.
"Paterson isn't anonymous, like former lieutenant governors. Two-thirds of New Yorkers knew his name even as he was sworn into the top job. Hardly anyone has a low opinion of him."
"Politics is a 365-day-a-year game (366 in leap years), and New Yorkers voiced opinions on whom they'd like to run for Governor in 2010. Mayor Bloomberg leads very slightly overall, but Giuliani is the favorite of almost half of Republicans. Paterson leads among Democrats, followed by Bloomberg," Carroll added.
Former Gov. Eliot Spitzer was right to resign, 81 percent of voters say, while 15 percent say he should have served his full term. Spitzer should be charged with a crime, 48 percent say, while 40 percent say resigning as governor is punishment enough.
By a 70 – 27 percent margin, state voters favor the current system where the Lieutenant Governor serves out the full term when the Governor leaves office, rather than holding a special election.
"New Yorkers split on former Gov. Eliot Spitzer. A lot think he should be charged with a crime, but a lot are inclined to let bygones be bygones – they think losing the job was punishment enough," Carroll said.
Legalized Prostitution
By a 62 – 30 percent margin, New York State voters oppose legalized prostitution involving people over 18 years old. Men oppose legalization 54 – 38 percent, while women oppose it 68 – 23 percent. Opposition to legalized prostitution rangesfrom 57 – 33 percent in New York City to 65 – 27 percent among upstate voters.
Prostitution is not a victimless crime, voters say 66 – 26 percent. Men say 63 – 29 percent prostitution is not victimless, while women agree 68 – 23 percent.
There is a bigger gender gap on the question of whether people who patronize prostitutes should face the same punishment as prostitutes. Voters overall agree 73 – 19 percent that the penalty should be the same. Men support it 68 – 24 percent, while women support it 76 – 15 percent.
"New York City voters are slightly more tolerant of the world's oldest profession than voters upstate, and men are less opposed than women to the idea of legalized prostitution, but opposition is strong among all groups," Carroll said.
From March 16 – 18, Quinnipiac University surveyed 1,528 New York State registered voters, with a margin of error of +/- 2.5 percentage points.
The Quinnipiac University Poll, directed by Douglas Schwartz, Ph.D., conducts public opinion surveys in New York, New Jersey, Connecticut, Pennsylvania, Florida, Ohio and nationwide as a public service and for research.