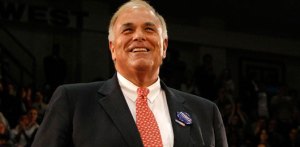 The Clinton campaign chastised Barack Obama this morning for what they said is his shunning of Pennsylvania, a state that the campaign argues a Democratic candidate needs to carry to win the general election.
On the call, according to Howard Wolfson, were a "great lineup of guests," including Governor Ed Rendell, who talked about "the Obama campaign's attempt to diminish the importance of the state" and Mayor Michael Nutter, who said he would "fire" a staffer who wrote a memo lowering expectations in Pennsylvania.
Mark Penn was on the call too, to make sure the campaign's main message was heard: "[Obama] doesn't seem to be able to pass the commander in chief test."
When asked during the question-and-answer period whether the intensifying rhetoric between the Clinton and Obama campaigns is destructive to Democratic chances in the general election, Rendell argued it was actually a good thing, because it takes attention away from John McCain.
By way of evidence, he said his own sharply contested 2002 primary against Bob Casey helped him beat Republican Mike Fisher in the general election because "Fisher couldn't have gotten any publicity if he had walked down Main Street playing the banjo," and "I emerged as a much stronger candidate–nobody in Pennsylvania knew Mike Fisher's name."
Rendell added, "I think you could make the case that there is some level of contest here and that it can get acrimonious at times" and "this is good for the party."
Towards the end of the call, Wolfson, abandoned by his great lineup of guests, fielded some questions about the campaign's firing of Geraldine Ferraro and Clinton's subsequent attempt to distance herself from her surrogate's remarks.
"She disagreed with the comments, she rejected the comments," Wolfson said of Clinton's response to Ferraro. Seconds later, Wolfson was asked if he was disappointed with the role race has played in the campaign.
"I think race and gender can be difficult issues in the context of our political process, and I think we have seen both play out in this campaign in way we don't always approve of and Senator Obama doesn't always approve of," Wolfson said.