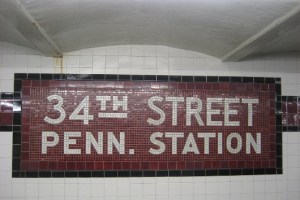 A new Regional Plan Association report (PDF) calls for the proposed rail link beneath the Hudson River from the Meadowlands Arena to near Penn Station to be extended to Manhattan's East Side, possibly near Grand Central Station. The extension would save the estimated 60,000 commuters who travel through Penn Station to the East Side and back at least 20 minutes each way per day.
The connection from the Meadowlands to a new station near Penn Station–through what's called Access to the Region's Core or ARC–is supposed to be completed by 2017 (construction by the Port Authority and New Jersey Transit starts next year). But the RPA argues in its new report that that the connection should merely be the first leg.
"We don't think they should rip up the blueprints," said RPA spokeswoman Neysa Pranger. "They should go ahead with the project as planned and a couple of years after it's done start the environmental review process for a second phase to extend it to the East Side."
The RPA report argues that the extension would relieve congestion at Penn Station; lead to 1,200 fewer vehicles per day in Manhattan; and reduce traffic in the bus lane to the Lincoln Tunnel by 130 buses daily.
The second part of the report recommends establishing a light rail loop in Midtown in anticipation of the development on the far West Side and of Moynihan Station. The RPA looked at several possibilities to reduce the anticipated congestion in west Midtown, including a 42nd Street light rail line from the Hudson River to First Avenue and a transit link from Penn Station.
An above-ground light rail loop running along 42nd Street to the Hudson River, back along 34th and up Broadway to Lincoln Square would benefit the most number of currently underserved areas, the study concluded. Plans for the light rail loop should move forward in tandem with the design of Moynihan Station, the new Madison Square Garden, and the No. 7 extension, the report stated.
"Midtown circulation problems are only going to worsen when development on the far West Side begins," Richard E. Barone, the RPA report's co-author, said in a statement. "Now is the time to start thinking about accommodating that growth."
Transit from west of the Hudson to Midtown Manhattan is almost entirely at capacity and the number of riders is expected to keep growing, the report states.
The RPA did not calculate projected costs of either the extension or the light-rail loop, but did measure the cost effectiveness of the extension. The report concluded that the ARC should be extended to the East Side as long as it would cost under $3 billion, because it would benefit 80 percent of riders. The RPA is relatively confident that it will come in below $3 billion, Ms. Pranger said.