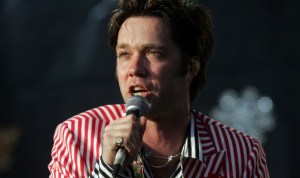 Rufus Wainwright, MTV Networks president Brian Graden and the CBS soap opera As The World Turns were among the big winners last night at the 19th annual Gay & Lesbian Alliance Against Defamation Media Awards at the Marriott Marquis. A Middle East political romance The Bubble and Stardust, Paramount's fantasy movie starring Claire Danes (and featuring Robert De Niro as a gay pirate), took home outstanding film awards, as did First Run's documentary For the Bible Tells Me So. Reuters reports.
Judy Shepard won the top Excellence in Media Award for her efforts to stop anti-gay violence after the death of her son Matthew Shepard. Graden took home the Vito Russo Award for his networks' inclusion of gays in programming, and cable network BET J won special recognition for the same.
ABC's "Boston Legal" won the nod for outstanding individual episode (in a series without a lesbian, gay, bisexual or transgendered character in its regular cast) for "Do Tell."
Segments from CBS' "60 Minutes" ("Don't Ask Don't Tell") and ABC's "20/20" ("My Secret Self: A Story of Transgender Children") tied for outstanding TV newsmagazine journalism. The award for outstanding TV journalism news segment went to CNN's "Anderson Cooper 360" for "The First Casualty."
Wainwright was named outstanding music artist for his "Release the Stars" album. Terry Moore's "Strangers in Paradise" took the honors as outstanding comic book.