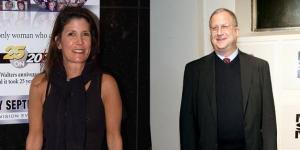 The Media Mob has learned that CBS News is on the verge of announcing the end of Shelley Ross' brief, tumultuous reign as executive producer of the Early Show.
According to sources, CBS is also expected to announce that Rick Kaplan—currently the executive producer of the Evening News With Katie Couric—will take over control of the Early Show, perhaps on a temporary basis, until a permanent replacement is hired.
UPDATE: Right on the heels of our having learned about this, an e-mail from CBS News president Sean McManus:
This is to let you know that Shelley Ross, Senior Executive Producer, THE EARLY SHOW, is leaving CBS News.
Rick Kaplan, executive producer of the CBS EVENING NEWS WITH KATIE COURIC, will oversee THE EARLY SHOW on an interim basis until a permanent replacement is named. He will remain executive producer of the EVENING NEWS. As you know, Rick has built an exceptionally strong senior team there, and the broadcast will be in very capable hands until he returns full-time to the EVENING NEWS.
I know I can count on all of you to support Rick in his expanded efforts.