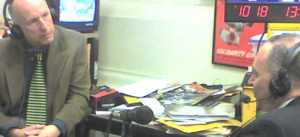 Here's Chuck Schumer chatting with Fred Dicker during his radio show in the Capitol building in Albany.
Schumer told Dicker he became closer to Spitzer after he became governor, but has not spoken to him since the scandal broke because he wants to wait until "the dust settles."
When Dicker pressed him on how exactly that dust will settle (with criminal charges? with jail time?), Schumer said he was unsure.