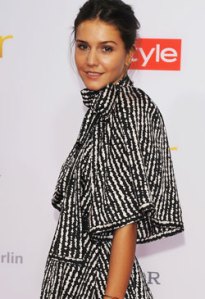 On Friday, March 14, the socialites Lauren Santo Domingo and Derek Blasberg took knitwear heiress Margherita Maccapanni Missoni out for an intimate dinner at their favorite Italian restaurant in the West Village—they wished to keep the exact location a secret—to celebrate her imminent move to Paris. Afterward Ms. Santo Domingo and Mr. Blasberg coerced Ms. Missoni into getting a nightcap at the Submercer, where they had assembled a secret group of revelers.
Orchestrated by Mr. Blasberg, who if socialites were Smurfs would totally be called Crafty Socialite, the plan went off without a hitch. When they walked in, the place was quiet. Then everyone yelled, "Surprise!" No toasts, just a few rounds of "for she's a jolly good fellow," then the music came blaring back.
"It was a hot party!" said an attendee. "[Model] Lily Donaldson was pole-dancing with Marg." Other guests included photographer Mario Testino, Proenza Schouler designers Jack McCollough and Lazaro Hernandez, the MisShapes' Leigh Lezark, former Paris Hilton flame Stavros Niarchos and French Vogue editor Carine Roitfeld's kids Vladimir and Julia. Also, the hardest-working blondes in town: Tinsley Mortimer and Fabiola Beracasa.
The bash had a definite European flavor. "Everyone was smoking," blabbed the source. "People were smoking weed and there were rumors of mushrooms"—manifest, perhaps, in some strange moves on the dance floor. "Some guests were clearly hallucinating. Or just bad dancers."