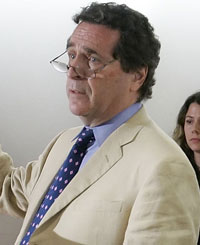 Speaking at the Central Brooklyn Independent Democrats club last night, public advocate candidate Norman Siegel said he doesn't plan to use the office of public advocate as a stepping stone.
The civil rights lawyer has said before that he is interested in protecting citizens' civil liberties, but he doesn't want to make the painful decisions that an executive has to make. According to one attendee, Siegel said, as an example, that he couldn't bring himself to close libraries on Sundays as a cost-saving measure.
It's not huge news in and of itself that Siegel doesn't have mayoral ambitions. (No one, as far as I know, ever thought that he did.) But the notion that he's not looking to become public advocate in order to move on to an office with real powers is something he's likely to use to help differentiate himself with the other candidates in the race, including, possibly, Eric Gioia and Scott Stringer. Adam Clayton Powell IV is also running for public advocate.
On a somewhat related note, last night's CBID was the first meeting held by the club's new president, Chris Owens, a 2006 Congressional candidate, son of former Congressman Major Owens and something of a music artist.