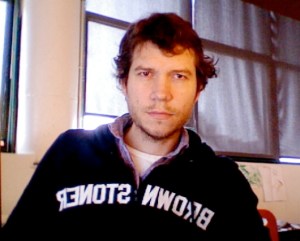 On April 6, a weekly Brooklyn flea market will kick off in Bishop Laughlin Memorial High School in Fort Greene, but the event is a far cry from your neighborhood stoop sale or the dusty, glorified junkyards that linger in Manhattan.
For one thing the "Brooklyn Flea" is curated, said founder Jonathan Butler—until recently known only under his nom de plume Brownstoner.
Mr. Butler and his partner Eric Demby, a former communications officer for Brooklyn Borough President Marty Markowitz, handpicked about 200 up-and-coming designers as well as vintage clothing and antique vendors out of the 700 who expressed interest.
You won't be able to find much junk there, but you will be able to buy hardwood tables hand-carved in Dumbo out of former bowling lanes; Belgian Waffles; and slinky silk tops—think Portobello Road by way of Brooklyn.
Anyone who has read Mr. Butler's blog is aware of his penchant for classic architecture and restoration, but he is also a self-proclaimed "life-long flea marketer."
"With the decline of Manhattan flea markets, it seemed that the city needed a new one," he said of the inspiration behind the Flea.
The Manhattan flea market at 26th Street is "a shadow of its former self"—all that remains is a lot and an indoor space—and there is another one on 78th Street and Columbus Avenue, but "nothing of this scale or quality" exists in New York at the moment, Mr. Butler said.
"Brooklyn seemed like the right place because there are a lot of creative people there, and given the money in Manhattan I think the number of people willing to take the time to hunt around for bargains may have diminished."
Not everything for sale at the Flea will be bargains to be sure, but Mr. Butler expects the event to attract a lot of people from Manhattan and other Brooklyn neighborhoods.
For more information on the event and a complete list of vendors, you can visit the Web site here.