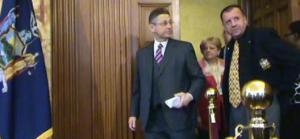 Assembly Speaker Sheldon Silver, who has worked both with and against Eliot Spitzer, just told reporters repeatedly that he thinks incoming governor David Paterson has the intellect, charisma and experience to governor immediately.
Silver called him "an ideal leader to guide us through the difficult days ahead." Referring to Spitzer and Paterson, the Speaker said, "There's clearly different personalities involved" and added that Paterson is "best suited to pick up those pieces and move forward."
Towards the end of the 10-minute event, held in a conference room behind the Assembly Chambers in Albany's Capitol building, I asked Silver what kind of mandate Paterson comes to the position with.
"This is not a matter of mandates. I think you know mandates only last a brief period of time," he said. "This is a matter of performance. I think David will hit the ground running. I think he is capable of being one of the finest governors New York has ever had. I pledged to work with him. Members of my conference will work with him, and you'll ask that question in about a year, and see what his accomplishments are."