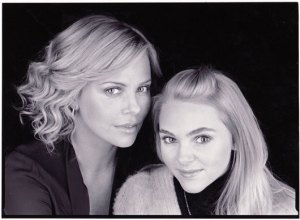 "Within the first 15 pages of the script, my character does something so horrible and so unforgivable," said Charlize Theron, curled up on a plushy couch at the Regency Hotel. She was discussing her role as Joleen, a misguided young mother who leaves her 11-year-old daughter to hit the road with a boyfriend—one of many—in her new film, Sleepwalking. "It's very acceptable for a man to go and play someone, a very flawed and conflicted character, who makes horrible mistakes. That's okay, society accepts that. But I think we haven't really and truly fully investigated female complexities in film. … We still very much live in a Madonna-whore complex."
Ms. Theron, 32, was sporting spiked heels that revealed a tiny, green flower tattoo on the top of her right foot. Sitting next to her was a composed AnnaSophia Robb (seen not so long ago as gum-smacking Violet Beauregarde in Tim Burton's Charlie and the Chocolate Factory), who plays Ms. Theron's daughter, Tara, in the film. After each question, Ms. Robb and Ms. Theron would shoot communicative glances at each other, silently asking who would like to answer first. Ms. Theron, who also produced the film, said Sleepwalking was a labor of love—the indie film was shot in just 29 days, mostly in the freezing cold of Canada. To keep warm, the ladies danced together. Ms. Robb said the weather helped her get in touch with Tara's dark side. "It certainly got me into character in the mornings," she grumbled.
Sleepwalking is playing now at Landmark Sunshine Cinema and AMC 42nd Street.