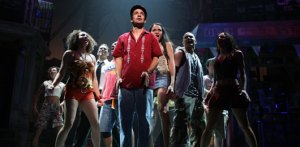 It's a funny old job being a critic. Each week, I confidently—fairly confidently—offer a point of view about a show. Yet if someone asks me personally what show to see, I wish they wouldn't.
I don't want to feel responsible if they have a horrible time. Only recently some friends of mine from out of town were planning a Broadway treat for the family and asked what I thought about Spring Awakening. I replied without thinking, "You'll love it." Because I did.
A week later, they told me they left at intermission. They had to shield the wide eyes of their not-so-innocent 15-year-old darling girl from all the raunchy stuff onstage. It was my fault. I should have recommended Legally Blonde.
WHADDYA GONNA DO? As I see it, Spring Awakening revolutionized the rock musical when it opened on Broadway two years ago—and it's still the best in town. It's an intelligent show about parenthood and adolescence that pulls off the artistic miracle of being both serious and wildly entertaining. Its brilliant staging by Michael Mayer grows out of avant-garde theater (Spring Awakening was originally produced Off Broadway). And the show is as true as it can be to the spirit of German Expressionist Frank Wedekind's frequently banned 1891 play (given that Wedekind's allegedly pornographic lovers are 14-year-olds).
The unexpected commercial success and audacity of Spring Awakening ushered in the new era of Lin-Manuel Miranda's vibrant Latino love letter to Washington Heights, In the Heights, and Stew's stoned rock-pop odyssey in search of middle-class black identity, Passing Strange. Both raved-about shows have just arrived on Broadway (also from Off Broadway). And here's what happened to me only a week ago concerning Stew:
One of my oldest friends from London was in town and asked in that wary way people do: "Did you like Passing Strange, by any chance?"
I couldn't imagine this was the show for her. Stew's show is loud, and my friend isn't. "Are you sure Stew's for you?" I asked her tactfully. "I like him, but Passing Strange is a rock concert in disguise. It makes for a predictable musical. Have you seen Spring Awakening? Now there's a show!"
"I've already got tickets for Passing Strange," she replied, as if I were to blame. (And at $110 a pop, too.)
"Don't listen to me," I said defensively. "You know what critics are like. Miseries! Yet lots of them love Passing Strange."
"But you don't."
"Not really."
Stew's coming-of-age story seems middle-aged retro to me. The star himself isn't young. He's an affable and unlikely rocker in his mid-40's—a tubby middle-class troubadour from Los Angeles who's the gifted performer, narrator, lyricist and co-composer (with Heidi Rodewald) of Passing Strange. He's witty about racial stereotyping and his church gospel beginnings, but the real world of race riots seems to have passed him by. He veers messily between street poetry and cliché; his glib satire of avant-garde movies reveals a safe, middlebrow mind. Wryness is the keynote. There's no fury in Stew's story of dropping out and finding his way. Considered hip by Broadway standards, Passing Strange is sweet, unthreatening—not strange.
Another new soft-rock musical I reviewed recently, Next to Normal, is just too darn normal. Intended as an adult story about a chronically depressive housewife who attempts suicide—of all un-showbizzy things—it's actually quite jolly, with its traditionally sentimental, uplifting closing number, "Let There Be Light." The compromised Next to Normal is directed by Michael Greif of Rent, which was the crossover musical when it opened 12 years ago and put the mid-80's East Village art scene onto the Broadway stage (and straight into Bloomingdale's window displays).
WHEN BLOOMIES CO-OPTS the barrio, you'll know that In the Heights has crossed over into a big, fat commercial hit. All the signs are that it will do just that.