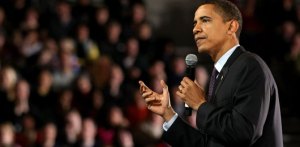 There's this curious notion being circulated that just because Barack Obama has won "more votes" and "more states" and has earned "more delegates" than Hillary Clinton, he has a more legitimate claim to the Democratic nomination than Hillary Clinton.
But these metrics, as the Clinton campaign reminded reporters this week, are not the only data that can be relied upon to determine which candidate will have earned the Democratic nomination.
For instance, Clinton is breathing down Obama's neck when it comes to "primary delegates" – that is, delegates, assigned from states that don't hold caucuses. Right now, she trails by just 16, a gap that could be erased if Clinton can score a decisive win in Pennsylvania's primary. This is clearly a more meaningful number than the overall delegate count, since—as everyone knows—there are no caucuses in the general election.
"If we are ahead in primary delegates…that's a factor," noted Mark Penn, the Clinton campaign's chief strategist.
Also, did you know that Clinton actually leads Obama in the category of "electoral votes represented by primary and caucus states won?" That's right: If you add up all of Clinton's primary and caucus victories, they account for states with an aggregate 218 electoral votes—a muscular 17-theoretical-electoral-vote advantage over Obama. And as Howard Wolfson, the Clinton campaign spokesman, pointed out: "Presidential elections are decided on electoral votes."
The Clinton campaign is hoping that the remaining uncommitted superdelegates will take all of this into account when the primary season ends, rather than being swayed by the overall results, which can be misleading.
Unfortunately for Clinton, history shows that the person who loses rarely wins—even if that person hold delegate leads in crucial-sounding, made-up categories.
Take Jerry Brown. He lost to Bill Clinton in 1992 when Clinton won 1,812 more pledged delegates during the primary season, and several million more votes. This data ignored Brown's superiority among Connecticut and Colorado delegates. As of '92, those two states had sided with the winning general election candidate in four of the previous five elections. By snubbing Brown for their nomination, Democrats ignored Brown's clear bellwether state appeal at their own peril.
Or consider 1988, when Michael Dukakis secured the Democratic nomination when he won 900 more delegates and 2.9 million more votes than Jesse Jackson during the Democratic primaries.
Jackson had a clear advantage—38 to 35 percent—among primary voters under the age of 30. For Democrats, this was a short-sighted decision, since studies have shown that voters' political preferences are locked in at an early age. By nominating Jackson, they would, therefore, have been making a valuable investment in their future prospects, securing the allegiance of many more voters in the years and decades to come. Dukakis, by contrast, fared best during the primaries among voters over 60—many of whom are no longer alive.
Time and again, it seems, Democrats have failed to look beyond the primary and caucus numbers that are most easily apparent.
Sure, Bill Bradley lost all 19 of the primaries and caucuses in which he competed with Al Gore in 2000, falling 1,000 delegates and several million votes behind his opponent and losing among every measurable demographic group. But in the ensuing rush to pressure him out of the race, not one Democrat bothered to pause and point out that Bradley had fared radically better than his national average among white male voters with incomes over $100,000.
This may seem insignificant, but remember that only 537 votes ended up separating Democrats from winning Florida—and the presidency—in the fall. Bradley's appeal to wealthy white men could have put them over the top, if only they'd bothered to consider it.
Granted, the awarding of delegates is complicated stuff. So here's a sports analogy.
Over the weekend, West Virginia men's basketball team was declared the winner of a second-round NCAA tournament game simply because they scored more points than their opponent, Duke. But the Mountaineers actually committed four more turnovers than the Blue Devils. And as Hall-of-Fame basketball coach Bob Knight once pointed out, "If you limit your turnovers, you win the game." So, clearly, Duke was a more worthy victor than West Virginia—and would obviously have been better-positioned to win in the next round.
Sometimes, the final score doesn't tell the whole story. But it's pretty much always final.