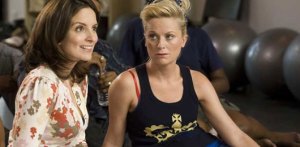 Tulips might not be shooting through the Park Avenue median just yet, but spring has definitely arrived at your local multiplex. Over the next few weeks, comedy, action, romance, major franchises and—of course—comic-book superheroes will, ahem, spring into action on screens all over the city. In other words: wave buh-bye to the sludge that the studios have been spooning on us during the past few months, and say hello to the movies they're hoping will pay for next year's Oscar campaign. We're talking Indy, Carrie and Big, Iron Man and a little Dempsey, all of which will tide us over till Christopher Nolan's Batman flick, The Dark Knight, cometh in July.
First, though, we have to get through March. There's the excellent-looking remake of Funny Games on the 14th—which, don't be fooled, is not funny (it's about two deeply disturbed men who take a family hostage in their vacation home)—starring Naomi Watts, Tim Roth and Michael Pitt, and directed by Michael Haneke, who did the original, too. We've been told on good authority that it will freak us out into the next horizon. Judd Apatow and Seth Rogan continue their comedic reign with Drillbit Taylor on the 21st. In this one, Owen Wilson (don't call it a comeback!) plays a low-budget bodyguard hired to protect three nerds from a bully at school. Not going out like a lamb, March brings Stop Loss on the 28th. If there's finally going to be a decent movie about our current troubles in Iraq, our money is on this one. Ryan Philippe stars as a war hero who returns to Texas after his tour of duty, and then is ordered right back to Iraq. Kimberly Pierce resurfaces to direct after a long hiatus (since 1999's Boys Don't Cry). (And, for those who care, this is the movie that reportedly helped propel the end of Reese and Ryan thanks to hot blonde Abbie Cornish's co-starring as the love interest.)
April is not the cruelest month movie-wise. On April 4, everybody's favorite movie star, George Clooney, directs and stars in Leatherheads. This is a football movie set in the 1920's (perfect for the screwball-lovin' Clooney!); Renée Zellweger and her squinty face are also in it; and you know you're going to go see this one, so don't even pretend that you're not. That same weekend also brings The Ruins, a horror movie based on Scott Smith's best-selling novel that stars broody Jena Malone and should scare off tourists from day-hiking for good (even the trailer is too much for us); and Martin Scorsese's long-awaited Rolling Stones documentary, Shine a Light.
We don't know what to make of Hong Kong director Wong Kar-Wei's My Blueberry Nights: The film, opening April 11, stars Jude Law, Natalie Portman (doing a Southern accent? Uh-oh) and—hi!—Norah Jones. It looks dreamy, and the IMDB plot synopsis includes the words "soul searching." O.K.? O.K. The 11th also brings Smart People, which has the seemingly unbeatable cast of Sarah Jessica Parker, Dennis Quaid, Thomas Hayden Church and everyone's favorite Juno sassy-pants, Ellen Page. We're a sucker for any movie that puts the fun back in family dysfunction, so consider us there. On the other end of the spectrum is Street Kings, which stars Keanu "pop quiz, hotshot" Reeves as an LAPD cop who has to fight the department after evidence implicates him in a crime. And … most excitingly? Hugh Laurie, released from House's Princeton Plainsboro Hospital, plays someone without a limp. Meanwhile, Meryl Streep, Aidan Quinn and Liu Ye star in what looks to be a terribly disturbing based-on-a-true-story movie, Dark Matter, the first feature film by opera director Chen Shi-Zheng. It's about a young scientist on the quest for the Nobel Prize, and it won the Alfred P. Sloan Prize at last year's Sundance Film Festival.
On April 18, Al Pacino stars in 88 Minutes, about a womanizing forensic psychologist working with the F.B.I., who may have tussled with the wrong serial killer. (Tag line: "He has 88 minutes to solve a murder. His own." All together—hoo-haah!) OC cutie Benjamin McKenzie shows up, as do Leelee Sobieski, Alicia Witt and Amy Brenneman. Same weekend, different subject matter, is Forgetting Sarah Marshall. Here we have Jason Segel (another fine and thriving member of team Apatow) as a man jilted by his girlfriend (Kristin Bell) and looking for love in Hawaii … where his ex also is vacationing.
Tina Fey is another taking-over-Hollywood type, and the movie she stars in, April 25's Baby Mama, looks to be a surefire winner. Written and directed by Michael McCullers (of Saturday Night Live and Austin Powers), Ms. Fey stars as a successful city-living working-gal who is determined to have a baby on her own. But when she finds out she can't, she picks a woman to be her surrogate: a down-on-her-luck type played by Amy Poheler. Sometimes a movie manages to hit at just the right time … some go the way of Children of Men, and others go here. Looks hilarious and also stars Greg Kinnear and Sigourney Weaver. Its major competition almost doesn't need any explanation … we're talking about Harold & Kumar Escape from Guantánamo Bay. We kind of love that Kal Penn is sticking with what made him famous after turns in The Namesake and his current role on House. This time, the pot-smoking pair try to outrun The Man, who suspects them of being terrorists.
Hey, May! This is when the really big guns (literally) start to come out. May 2 brings Iron Man, where classic comic hero Tony Stark is "forced to create a life-support suit to keep him alive." He does it, and then uses it to fight crime. The big news on this one is the cast: the scarily talented Robert Downey Jr. plays Stark; Gwyneth Paltrow (remember her?) is Virginia 'Pepper' Potts; and Terrence Howard, Jeff Bridges and Samuel L. Jackson all have supporting roles. Expect greatness. Competing with the comic-nerd flick is Made of Honor. And man, this has been a movie we've been looking forward to since previews started popping up ages ago. Patrick "McDreamy" Dempsey returns to his Can't Buy Me Love roots as a man in love with an engaged woman who asks him to be her maid of honor. Oh, the hijinks … they will ensue! The following weekend brings another highly anticipated one, Speed Racer. This is from those wacky Wachowski brothers, and from the looks of it, the colors and action sequences will hold up for all those fanboy Matrix geeks. Emile Hirsch is behind the wheel. (Is he the next Leonardo DiCaprio?) And then, look out, because it's time on May 16 for The Chronicles of Narnia: Prince Caspian. We can only hope that Oscar winner Tilda Swinton, playing the White Witch, is as over the top and deliciously campy as she was in the first installment. And finally, grasping for those big Memorial Day bucks, comes a little something for the chicks and the, um, guys. Indiana Jones and the Kingdom of the Crystal Skull brings us Indy and—hey!—Karen Allen returns (yea!) while Shia LeBeouf continues his quest for superstardom.
And—how could we forget?—there's Sex and the City: The Movie on May 30, which will make no less than a gazillion dollars. Don't feel guilty—we're going to see it, to
o.