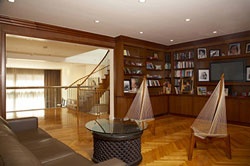 Luxury watch executive Benny Shabtai's extravagantly contemporary townhouse at 870 Park Avenue, once described by the historian Christopher Gray as a futuristic beach house, first went on the market way back in February 2004, listed for $23 million by Corcoran's super-aggressive superbroker Carrie Chiang.
That August the price dropped to $21 million, then to $19.9 million in June 2005. The place still hadn't sold by January 2006, when it was taken off the market.
Never mind that the six-bedroom house didn't sell for $19.9 million, or that Mr. Shabtai paid just $8.2 million in July 2000 (his seller was Judith Stern Peck, who kept the house after she divorced billionaire Leonard Stern): Last week, he listed the house again, this time for $33 million, the Web site for brokerage Brown Harris Stevens shows.
And somehow the new price isn't far-fetched. Listing broker Paula Del Nunzio, who has already sold two of the city's three most expensive townhouses, said the place is worth more now because its designer, Robert A. M. Stern, has been deified for his work on the new 15 Central Park West condo.
"It sold out for $2 billion," she said, "so anything you do that's so famous and so well received makes everything you did wonderful." Ms. Del Nunzio's listing puts Mr. Stern's name in its subtitle, but doesn't mention that he modernized the house in 1976, and that it suffered a fire in 1992. The interior was rebuilt then by Donald Trump's favored architect, Costas Kondylis.
But another change in their favor, Ms. Del Nunzio said, is that there are more plush private art collections that need huge well-lit walls. "I mean," she said, "look at how big those walls are." (Marketing photos show what looks like a Mona Lisa in the living room—this is the kind of house that has hosted, literally, Ariel Sharon and Michael Jackson at the same party.)
On the downside, townhouse buyers like to be on leafy streets instead of Park Avenue, a co-op drag. Plus, Mr. Stern's postmodern touches, like a glass-brick south wall, won't be to everyone's tastes.
When asked about the different listing prices, Ms. Chiang said, "I don't know, you should go and ask Paula." Then Ms. Chiang said that a few months ago she was consulted by her friend Lori, Mr. Shabtai's wife, but didn't want to have the listing if it was over $30 million, which she thought would be unfeasible. But Ms. Chiang said in a second phone call: "She's a friend of mine. I would be very happy if she gets it."