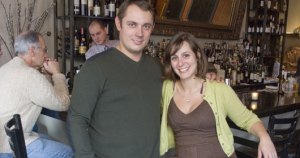 Last Saturday, around noon, two couples stopped in front of the JakeWalk—a new cocktail, wine and cheese bar on the corner of Smith Street and Sackett in Brooklyn—and peered at the menu. The foursome almost comprised a typical Carroll Gardens/Cobble Hill tableau: Their ages seemed to range between 28 and 38; the women were fresh-faced with determinedly wavy I-don't-do-blowouts hair, dressed in ballet flats and expensive-looking coats; and the men sported tortoise-rimmed glasses, dark jeans and mussed hair—but in a preppier, Hugh Grant-y kind of way than in a Christian Siriano one. The only things missing were a baby stroller and/or a dog.
"It's the Stinky people," said one of the men, running his finger down the list of cocktails, wine, 40 available cheeses, fondue and charcuterie.
"Awesome," said his friend, peering in the darkened windows.
"Oh, I really want cheese now," said one of the women.
If you build it they will come. It was true for Kevin Costner, and it's certainly been the case for Patrick Watson and Michele Pravda, owners of the JakeWalk and, before that, Smith & Vine—the friendly, downright groovy wine store one block away on Smith that opened almost four years ago—and Stinky Bklyn—the well-stocked cheese shop (with charcuterie, olives and chocolate) that opened in 2006. Mr. Watson and Ms. Pravda's shops have developed such a fevered following that neighborhood denizens have already thrown their arms open to the JakeWalk; since its opening on March 7 it's been almost impossible to find an open table. Mr. Watson and Ms. Pravda, married since 2001, split their respective time between establishments (one Smith & Vine worker cracked up while trying to track down the whereabouts of Mr. Watson, who was apparently attempting to bounce between all three). And yet when Mr. Watson and Ms. Pravda arrived at the JakeWalk to meet The Observer, they seemed far more energetic than the scores of sleepy couples strolling by in search of brunch.
"Honey, look at that. There's a crack in the door," said Ms. Pravda, 36, a petite, pretty, shiny-haired brunette. She was gesturing toward the new front door of JakeWalk.
"So there is," said Mr. Watson, 33, tall and lanky with a laid-back perma-grin. They exchanged a what-can-you-do shrug, although both continued to cast a critical eye around their newest venture (Mr. Watson got up at one point to grab a paintbrush to do a quick touch-up on a dinged spot. "Sorry, it's been driving me crazy," he said). The JakeWalk took over what used to be Quench, a weirdly swanky, leather-couched, bass-booming kind of place much ignored by the new generation of Carroll Gardeners, who skulked by it on their way to either speakeasy-ish Brooklyn Social or dimly lit Bar Great Harry. Now the space has been warmed up by blood-orange-colored vintage velvet-flecked wallpaper, a handsome mahogany bar with sturdy hooks underneath it for coats and purses ("That was my big thing," laughed Ms. Pravda. "Every day I'd ask when the hooks were going in"), and tables that can seat between 45 to 50 people total. With the JakeWalk, the couple has taken on business partners for the first time—Ari Form and Matthew DeVriendt, longtime Smith & Vine employees—and they've managed to get the renovations, which included installing a kitchenette and back bar, done in three and a half weeks.
"We could have taken our time, but what's the point? You have to realize that when you open a small business it's not going to be the perfect cookie-cutter template that you imagined it to be," said Mr. Watson. "You'll hear what people are asking for, and you just have to sort of open the doors as fast as you can and just get some feedback."
"We learned that from both other places," Ms. Pravda nodded. "Just jump in and listen to the people you respect in the neighborhood."
Carroll Gardens has in the past few years gone from sleepy old-school Italian neighborhood to destination spot for a certain kind of New Yorker. Ride the F train into Manhattan some mornings and one could be embarrassed by the uniformity of riders getting on at Carroll and Bergen (read: wet hair, The New Yorker, iPhones). Williamsburg gets all the crap for having a 'type,' but it's true of all our neighborhoods. In Carroll Gardens, there seems to be a disproportionate number of journalists, foodies, and—judging from current signage—Obama supporters.
"The No. 1 cause of success for a small business is the market analysis—it's the first section of any business plan," said Mr. Watson, one of the partners, who has lived in the neighborhood for 12 years ("I remember before Smith Street was paved!" he joked). "Who is your customer? And the better you know the demographic, the better you'll do."
"That's what was so easy about it," Ms. Pravda said. "Like, how well do we know the demographic? We are the demographic!" She isn't kidding; not only do they have a dog, but they're expecting their first baby in July (and, as renters, possibly getting priced out). "When we opened Smith & Vine, we looked around the neighborhood and it's like, who is here? Who is buying in this neighborhood? What do we want. It might not have worked in midtown, but it works here."