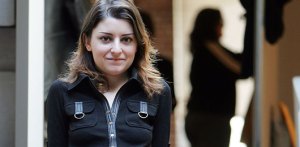 This Sunday's Times 'Style' section featured an article about the always stylish trend of bloggers receiving lucrative book deals pegged to the sale of a Stuff White People Like book to Random House for six figures. (The Times reports the figure at $300,000; The Observer's Leon Neyfakh reported the price at $350,000 when he broke the story on March 20.)
The demands of a trend piece being what they are, the reporter, Allen Salkin, had to layer on the evidence to add ballast to his thesis, including citing a 2004 New Yorker profile of ICM agent Kate Lee and stating, "Two years from now, the magazine noted, 'Books by bloggers will be a trend, a cultural phenomenon.'"
Similarly, the demands of self-effacement must have led Mr. Salkin or his editors to elide the full Talk of the Town article, which was written by Daniel Radosh, since it would've made Mr. Salkin's article uncomfortably meta: "Two years from now—give or take—Elizabeth Spiers, the founding editor of the gossip Web sites Gawker and The Kicker, will publish her first novel. Around the same time, Glenn Reynolds, who writes the political Web log Instapundit, will also have a book in stores. So, too, may writers from the blogs Hit & Run, The Black Table, Dong Resin, Zulkey, Low Culture, Lindsayism, Megnut, Maud Newton, MemeFirst, Old Hag, PressThink, I Keep a Diary, Buzz Machine, Engadget, and Eurotrash. Suddenly, books by bloggers will be a trend, a cultural phenomenon. You will probably read about it in the Sunday Times." (In keeping with the trend—it's a total trend, right?—of being meta, I should note that I co-edited one of the sites mentioned in the above paragraph.)
Things only got meta and meta on Mr. Radosh's personal Web site where he cites "the key graf" and how the Times fudged his prediction, noting, "I was off by two years. And, yeah, the Times already ran this exact story three and a half years ago—but that was on a Wednesday." In his comments section, someone claiming to be Allen Salkin popped up to note "the one you cite isn't the key graf." That prompted the ultimate meta rejoinder by Mr. Radosh: "True enough! I meant 'key graf' as far as the story relates to me, since, being a blogger, only the part that relates to me is important."