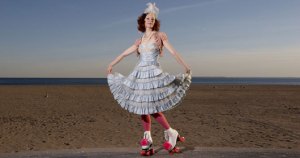 When Coney Island stalwart Dianna Carlin talks about her "wild roller-coaster ride," she isn't referring to the rickety old Cyclone.
Last March, the gingery 34-year-old T-shirt designer from Detroit was facing eviction from her small souvenir shop on the boardwalk.
Nearby batting cages, go-cart tracks and a miniature golf course had already been demolished, as developer Joseph Sitt's Thor Equities moved forward with a reported $2 billion plan to rezone and rebuild the ancient seaside amusement park into a glitzy Las Vegas-style resort, complete with luxury hotels and condos.
But unlike other vendors who agreed to keep their mouths shut in exchange for one final summer of sales, Ms. Carlin refused to sign the bulldozing landlord's confidentiality agreement. Instead, she spoke out publicly—organizing a massive protest at City Hall with dozens of other disgruntled sideshow freaks from the shore.
One year later, Mr. Sitt's controversial redevelopment plan is, in the words of one high-ranking city official, "dead in the water," while Ms. Carlin's charming Lola Staar Souvenir Boutique is still standing—expanding, in fact—with a second location opening later this summer inside the neighboring Stillwell Avenue subway station.
Heck, she's even opening a roller-skating rink!
"It's the beginning of the Lola Staar empire in Coney Island!" Ms. Carlin said, laughing, during an interview this past Sunday, as many Coney Island attractions, including the Cyclone and Astroland Park, kicked off a previously unexpected 2008 season.
"Everyone was talking today about the humongous contrast between where we were just one year ago and the way people are feeling now," she said. "There's been so much talk about the conflict and the zoning and people being scared about things being torn down and the last year of Astroland—it's just been so heavy for so long. This season just seems so exciting and positive changes are happening. I think the roller rink is one thing that's contributing to that."
Ms. Carlin unveils her Lola Staar Dreamland Roller Rink this coming Saturday, March 22, inside the nearly 60,000-square-foot former Childs Restaurant building, a designated city landmark, with a splashy grand-opening party sponsored by Glamour magazine and fashion designer Tommy Hilfiger.
Glamour is filming the rink's construction and opening party for an upcoming documentary, directed by Lisa Leone, about three women chasing their dreams.
Ms. Carlin had proposed the roller rink at a casting call last December. "The concept was to just take one of the vacant lots or vacant buildings and just bring life to it during this transitional time as Coney Island is redeveloped," she explained.
"I think we were all really impressed how she had gone from someone who was about to be evicted from her store to becoming this sort of spokesperson for saving Coney Island and really maintaining the spirit of the neighborhood," said Glamour associate publisher Leslie Russo, who, along with Mr. Hilfiger, sprung for roughly 300 pairs of roller skates and a rink floor composed of portable plastic tiles to help put Ms. Carlin's proposal into action.
Taconic Investment Partners, which holds a 49-year lease on the historic Childs building, donated the space for the party.
"It's a temporary installation," noted Ms. Carlin, "which I'm hoping to grow into a permanent rink that will be built in the new development."
She is continuing talks with Taconic about keeping the rink open throughout the summer. "In the meantime, we're not doing anything with it," said Taconic co-CEO Charlie Bendit, who's awaiting possible zoning changes before fully redeveloping the site. "Why not make it available to the community?"
Both Ms. Carlin and Mr. Bendit readily admit that the Childs building isn't the most ideal location for a permanent roller rink, however, because of its massive interior columns.
"There are six columns and they're sort of, like, in the rink," Ms. Carlin said. "It's a beautiful building. It's spectacular and amazing. But probably the columns are going to be a little bit of an issue."
She hopes to move the portable rink to another site, perhaps as the ground-level tenant of one of Taconic's forthcoming residential buildings: "How cool would that be? You're inviting guests over and you're like, 'Yeah, I'm the apartment above the roller rink,'" she said.
"I'm going to consider all sorts of ideas," said Taconic's Mr. Bendit. "By all means, it would be something to think about."
"I WOULD NEVER have foreseen myself being in this role," Ms. Carlin told The Observer about her unlikely rise as one of Coney Island's most prominent business and political leaders. "I think for a while I was just sitting back and being like, 'Wow, somebody should say something. Somebody should do something.'