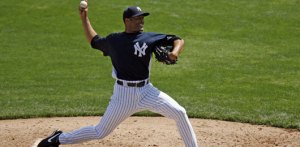 The dust has cleared on the New York Yankees' spring, and the many unresolved questions at the beginning of the preseason about their pitching are … still unresolved.
The already fragile coalition that makes up the starting rotation may be splintering. And the veterans at the top of the bullpen have held their spots thus far, but not decisively, meaning that a group of unheralded relievers may end up needing to supplant Kyle Farnsworth and LaTroy Hawkins as the season progresses.
The Yankees' planned starting rotation, which called for full seasons from Andy Pettitte and Chien-Ming Wang, is in jeopardy. Pettitte has missed a pair of spring starts with a back problem, and has already seen his first start pushed back. That means they could well end up with Mike Mussina as the No. 2 starter.
Mussina has actually been decent this spring, posting a 4.66 ERA and a 7-to-2 strikeout-to-walk ratio. But his 9 and 2/3 innings over three games in a month provides no indication of how he will perform every fifth day, pitching at least five or six innings.
Of less concern are the struggles from Phil Hughes and Wang. Hughes has been hit by the homer bug, but his strikeout-to-walk ratio is just fine. Wang's struggles are mostly due to an increase in walks. Ultimately, the stats don't mean much—they are small samples, and spring ones to boot—but neither pitcher is cause for concern.
The same is true in reverse for Ian Kennedy, whose 18 innings of 2.00 spring ERA masks the four home runs and ordinary 14-to-7 strikeout-to-walk ratio. This is not to say that Kennedy will be ineffective this season—in fact, he is likely to be solid for the Yankees as well. But the Yankees need all three to perform, especially if Pettitte misses time or performs below expectations.
Should any of the five pitchers falter early, with Joba Chamberlain quarantined in the bullpen to keep his innings below roughly 150, the Yankees have not identified a likely replacement starter, or even an effective long man. Kei Igawa, who's under contract through 2011, continues to walk too many and strike out too few. Jeff Karstens continued his career-long tradition of getting battered by major-league hitting. And Sean Henn, last-season's long-relief batting practice, is starting the season on the disabled list.
The likely winner of the long-relief/spot-starter derby is Billy Traber, a top draft pick of the Mets, who has been superb. But Traber's problem has always been staying healthy—and even when available, he is battered by right-handed pitchers to the tune of .329/.382/.512, or about the career batting line of David Wright.
Mariano Rivera closes, of course, and Joba pitches the eighth. But with Chamberlain set to move to the rotation sometime in mid-June to leave him available to start in October, the next line of defense is Kyle Farnsworth and LaTroy Hawkins. While both had sparkling ERA's in 16 combined innings, the two combined for seven strikeouts and six walks in those 16 innings.
A trio of young pitchers are vying for the final two spots—and their spring success is likely no mirage. Jonathan Albaladejo, Edwar Ramirez and the noticeably slimmer Brian Bruney have pitched a combined 23 innings, struck out 30, and walked just eight. Ramirez's control, in particular, is the best sign of all—if he's ahead of hitters, his change-up will rival any pitch in baseball for effectiveness.
Most of the good news heading into this season is on offense. The Yankees are faced with the enviable problem of a logjam at first base. Fan favorite Shelley Duncan has once again seized the opportunity provided, hitting .390/.419/.732 this spring. It is hard to imagine this hasn't earned him a share of playing time, especially with rival right-handed hitter Morgan Ensberg's spring struggles. Jason Giambi has seemingly found the Fountain of Youth, or some liquid at any rate, hitting .385/.415/.615.
Joe Girardi may well decide not to put Giambi in the field at all and instead look to Wilson Betemit as the left side of the platoon. Betemit has been the anti-Duncan, hitting .167/.255/.396. But even as he's slumped, he's still displayed plate discipline and power, and his defense easily trumps Giambi's field work.
The rest of the lineup is going to tear the cover off an unending series of baseballs. Bobby Abreu, Alex Rodriguez, Robinson Cano, Hideki Matsui and Melky Cabrera have put up numbers ranging from excellent to cartoonish.
Assuming age hasn't hit Jorge Posada and Derek Jeter at once, and they are merely tuning up for April, the Yankees are going to score lots and lots of runs. They'd better.