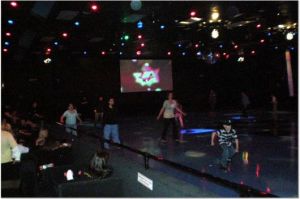 For two months in 2007, the city that has everything did not have a roller rink. Beginning in 2006, the trio of iconic rinks that had managed to survive as nostalgic throwbacks to an era when roller skating was cool finally succumbed to the national trend and folded.
Weekday roller rink-cum-gay weekend playground the Roxy closed last March to make room for luxury condominiums. The birthplace of roller disco, the Empire Roller Skating Center, in Crown Heights, hosted its final skate last April after 73 years in business. Despite demonstrations to preserve it, the building is now a storage facility. A year earlier Skate Key in the Bronx shut its doors.
Just as roller rink enthusiasts began packing up their grungy, old-school quad skates, Roller Jam USA opened in July on Staten Island at 236 Richmond Valley Road. Perhaps it's fitting that one of the first new rinks in New York City since the roller-disco craze peaked in the early 1980's would be in Staten Island, the most unabashedly untrendy, family-centric of the five boroughs. Even more fitting that the DJ of Roller Jam's weekly adult night on Saturday is a Roxy veteran.
Roller Jam USA occupies part of a sprawling, one-story building that was once a testing facility for the defunct Lucent Technologies company and is now a sports complex.
"They used to blow crap up in here," general manager Phil Gallina, whose family runs Roller Jam USA, informed me at the rink last Sunday afternoon.
It's not inconceivable that things could have exploded inside the windowless, cement-walled, black box that houses the modestly sized rink. Otherwise, all traces of its former industrial incarnation have been wiped away. The décor is exactly what one would expect from a roller rink. Disco balls spin from the ceiling, brightly colored beams of light splash across the basketball-court-size rink and are reflected in its smooth, oval floor. The Top 40 hits blaring from the speakers leave something to be desired. I had envisioned a scene like the one in Monster, where Charlize Theron and Christina Ricci first kiss on roller skates as Journey's "Don't Stop Believing" plays in the background.
Sadly, when I tried to request an INXS song, none of the three young girls working the concession stand knew the group. Since climbing the steep, exposed staircase to the DJ booth in skates seemed too daunting a task, I had to write the band name on a napkin.
Granted, the majority of the skaters crowding the rink Sunday were under 18 and many were younger than 5. When I wiped out (and took a friend down with me), I assured the rink attendant who glided to my rescue in a striped referee uniform and roller blades that I had swerved to miss a three-foot-tall toddler. But let's be honest, turning on those four-wheeled, suede monsters is tough.
Roller Jam USA is generally a PG experience. Drinking is not allowed on the premises, but "you can do whatever you want before you get here," offered one employee. Teenagers were the core market the Gallina family targeted when they got into the roller-skating business. "There was nothing else for teenagers to do on Staten Island before this," Mr. Gallina said. "You could either go to the mall or bowling. Now they come here."
Between 700 to 800 high-school kids go to teen night at Roller Jam USA every week, he estimates. Like the roller discos of the 1970's, it's as much a venue for socializing as skating.
"They come because it's like a club," Mr. Gallina said. "Sometimes the rink will be empty but all the couches and tables [surrounding it] will be full of kids hanging out."
Since the event is 18 and under, the attendants are the de facto chaperones, breaking up any make-out sessions or scuffles. Adult night—restricted to women over 23 and men over 26—also attracts about 300 to 400 skaters a night. Families, parties and a smattering of roller-skating enthusiasts account for the remaining business. A couple of weeks ago a man came all the way from Holland (via Boston) to Staten Island to skate on adult night, according to general manager John Jon. Though about 90 percent of customers are Staten Island locals, Mr. Gallina guessed, word is spreading.
I spoke to two families on Sunday who had come all the way from the Bronx and Brooklyn for an afternoon of roller-skating. And a long way it is. Grabbing a plane to Boston from La Guardia is probably quicker than the trek to Roller Jam USA. From the ferry, you take the Staten Island Railroad to Richmond Valley Road (the third-to-last stop on the line); walk 10 minutes down a residential street with no traffic aside from a few geese; and cross a busy, commercial intersection to the building. The tortuous, two-hour journey from Manhattan is all part of the experience, but those hoping to soak in the atmosphere of an unfamiliar borough along the way may be disappointed by the not-so-scenic route.
Based on the size and home bases of the crowd at Roller Jam, it would seem like a market exists for a new rink in Manhattan, but don't hold your breath. John Purcell, the executive director of Roller Skating Association International, a trade group that represents over 1,000 rinks across the country, said nationally the industry has stagnated since the roller-disco craze died out in the early 1980's, no more so than in cities where property is expensive.
"Traditionally, roller-skating rinks are family-owned businesses, so they have struggled against the same issues as other small businesses in America over the past decade," he said. "One of the challenges facing older rink owners, especially in places like New York, where real estate prices are high, is that a lot of them are nearing retirement and people are offering a lot of money to buy their space."
The most successful roller rinks in the country are those that have diversified into activities like laser tag and family entertainment like bounce houses or soft play, said Mr. Purcell. The growing popularity of Roller Derby has also "injected some excitement back into the sport."
Jeremiah Moss, the publisher of Jeremiah's Vanishing New York—a blog he describes as "an ongoing obituary of my dying city"—has a more sociological take on the demise of New York's roller culture.
"Roller rinks are communal, group activities," he said. "On the rink, everyone agrees to pay close attention to each other, to be cautious and play as a group. Everyone listens to the same music. But people seem much more individualized now—plugged into iPods, BlackBerries, cell phones. And they don't pay attention to others in their sphere.
"The circular motion of the rink doesn't have the thrust of ambition, either, it goes nowhere but around and around. I think now people would rather put on their iPod and roller-blade alone down the straightaway of a place like Hudson River Park."