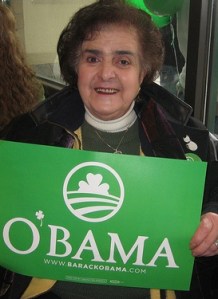 Speaking of the incoming governor Keith Wright said, '"David has been vetted 10 times as much as anybody."

One of David Paterson's top aides said the state may already be in an "economic crisis."
New York is not alone in that category.
Paterson's nice-guy approach may work in Albany.
A lot of people are claiming to be the new governor's friend, which he doesn't like.
Jeremiah Wright, Barack Obama's pastor, cut all formal ties with the campaign over the weekend.
The church, however, thinks it was crucified by the media.
Obama gets the blessing of the Chicago Tribune after answering numerous questions about Tony Rezko in a mass interview.
Obama picked up more delegates at the Iowa county caucuses, when most John Edwards' delegate switched to him,
John McCain was in Iraq over the weekend.
Hillary Clinton backs a plan for a new Michigan primary in June.
Eliot Spitzer walking his dog in the hours before he took of for upstate is great fodder for New York Post headline writers.
The Star-Gazette wonders about Spitzer's comeback.
The head of the M.T.A. is accused of being a bad landlord to rent-controlled tenants at 40 Central Park South.
Spitzer donor James Chanos recalls having Ashley Alexandra Dupre as a guest at his home in the Hamptons.
Prosecutors have until April 14 to bring an indictment against Spitzer.
A spokesman for Sheldon Silver said he is "somewhat supportive" of congesting pricing.
Contributions to the charity run by Silda Wall Spitzer may suffer.
New York City reporters made a few Spitzer jokes at their annual charity show.
Michael Bloomberg will be on 30 Rock.
There is no rest for presidential campaign aides.
In an op-ed, Ed Koch writes that Spitzer "had a screw loose," but adds, "Consensual prostitution violates the law — but should be treated differently" than "slave rings that transport people against their will and force them into the sex trade."
Nicholas Kristof of the Times hopes the Spitzer story doesn't shift people's focus away from women forced into the sex trade.
Fred Dicker really likes David Paterson.

Liz Benjamin says you have to wait until well after one p.m. today to see the real Paterson administration.
Chris Smith writes "The logistical particulars of Spitzer's sexcapades are beneath pulp fiction."

Newsday's editorial board writes that, tomorrow, "Paterson will be more free than at any time in the future to call for a significant turnaround in state budgeting."
The New York Times reprinted Eliot Spitzer's July 29, 2007 op-ed, where he rededicated his staff to maintaining "the highest ethical standards."
The New York Times editorial board says Paterson "needs to make certain he does not overaccommodate Albany's leaders."
Roger Cohen thinks not enough has been written about Obama's family.
Michael Barbaro dissects the clothing worn at the famous press conferences held by Jim McGreevey and Eliot Spitzer.
Silda Wall skipped what turned out to be an over-politicized dinner on the East Side, with a magazine giveaway she could do without.
Today is the last day of Client 9 Radio.