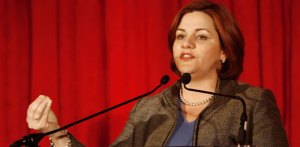 The Brooklyn Courier ran an article earlier this week on the race to succeed City Council Speaker Christine Quinn, who will be term-limited in 2009. I didn't see the article online, but a reader faxed me a copy of it, which gives (of course) special prominence to the Brooklyn candidates for the job, including Sara Gonzalez, Vincent Gentile and Leticia James.
But there are other candidates worth acknowledging, like Dan Garodnick and likely incoming member Denny Farrell, both of Manhattan.
Gonzalez's spokesman Michael Schweinsburg makes the most colorful argument for considering a non-Manhattan candidate for the speaker's job.
From the article:
"They [other boroughs] have licked on their lollipop too many times, so enough is enough already."