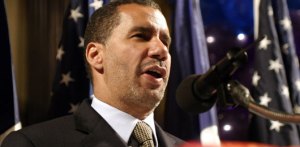 Sometimes, no one notices Lieutenant Governor David Paterson at all.
Like on Jan. 20, when Mr. Paterson arrived early at a Hillary Clinton campaign event at Harlem's Abyssinian Baptist Church and kept out of the cold with his wife, some campaign officials and a handful of reporters in the church's foyer. The reporters read the paper.
Other times, he gets lots of attention, often because he has said something frank or impolitic. During an earlier visit to the same church in October, for example, his introduction of Mrs. Clinton included an indiscreet allusion to the usually taboo subject of who would take Mrs. Clinton's Senate seat if she won the presidency.
"Everybody's moving up," he said.
Now, in the midst of the head-spinning news of Eliot Spitzer's crashing fall, of federal investigations, prostitution rings, Washington hotel rooms and squirm-inducing press conferences, David Paterson is about to become the most powerful official in New York.
"If you look back at the trajectories of many people who were important in history, it is improbable," said Kenneth T. Jackson, a history professor at Columbia University. "If everything turned out the way you thought it would, history would be much less interesting. And this certainly is not how people thought it would turn out."
Legally blind and keenly intelligent, Mr. Paterson's political career has been a strange one, as he benefited from and rejected the Harlem machine that reared him; seized power in the State Senate and then walked away from it; and, finally, profited from the flukiest path to the doorstep of the governor's office that New York has ever seen.
An unscripted politician (he has nonchalantly admitted to underpaying his taxes and, another time, that a claim in his official biography about where he was raised was incorrect), Mr. Paterson was given a leg-up for a State Senate seat by the Harlem Democratic machine in 1985 at the age of 31.
For more than 20 years in the State Senate, he served in frustrated obscurity in the minority.
During that time, he tried, unsuccessfully, to break free from his assigned course. He ran for public advocate and for Manhattan borough president, often against the wishes of a Harlem machine run in part by his father, the former New York State Senator and Secretary of State Basil Paterson.
Then, in 2002, after vigorously denying any plans to stage a coup to take over the minority leadership, Mr. Paterson did just that.
"Well, he issued a statement saying that he wasn't running and that he was supporting me, but hey, all's fair in politics," said coup victim Martin Connor, the former minority leader of the Senate. "He can be a tough politician and that's important. If you are going to be a governor, you have to be tough."
Mr. Connor has clearly made amends with Mr. Paterson and said that he was set to co-chair a fund-raiser for him on May 8 in New York City.
("He will probably be the chair of it by then," said Mr. Connor. The current chair is Mr. Spitzer.)
Mr. Spitzer's decision to hand-pick Mr. Paterson as lieutenant governor shocked the political establishment. (Once again, even Mr. Paterson's father had backed a different candidate.)
It was also something of a counterintuitive decision for Mr. Paterson even to want the number-two job, a position so uninspiring that one former lieutenant governor, Al Del Bello, quit in the middle of his term, citing boredom.
In the Senate, by contrast, Mr. Paterson was on a path to become one of Albany's all-powerful "three men in a room" if he had merely stayed on until the seemingly inevitable day that the Democrats moved into the majority.
Mr. Paterson identifies more with post-civil-movement black politicians than he does with his father's contemporaries—men like Charlie Rangel, David Dinkins and Percy Sutton. While it is true that he does have a strong connection to the New York political establishment, and is one of Hillary Clinton's strongest supporters, he chose to ally himself early on with the likes of Newark Mayor Cory Booker, who Mr. Paterson backed against the civil-rights-generation machine of Sharpe James.
"I have never seen him as a machine politician," said Assemblyman Michael Benjamin, one of the relative handful of New York elected officials supporting Barack Obama for president. "I have seen him as someone committed to innovation."