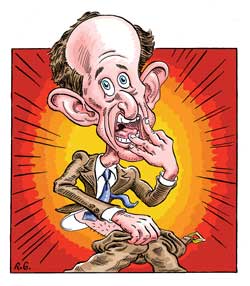 In retrospect, Eliot Spitzer's first year in office—during which time he lost high-profile fights with the Democratic Assembly and the Republican Senate, and introduced an initiative so toxic it nearly derailed Hillary Clinton's presidential campaign—only seemed like a disaster.
The revelation, broken this week on the Web site of The New York Times, that he paid thousands of dollars for a prostitute to meet him Washington, is the real thing.
It's not simply that Mr. Spitzer has systematically alienated virtually everyone in Albany—Republican or Democrat—meaning that he has no political allies in his time of need. Or that he has managed to turn his considerable popular mandate to dust.
The worst thing about Mr. Spitzer's transgression is that it finally, definitively and, barring a miracle, irreversibly destroys the premise of his political existence.
A clean-as-a-whistle crusader, he's not.
"I have acted in a way that violates my obligations to my family, and violates my—or any—sense of right and wrong," Mr. Spitzer said during a brief appearance in his midtown office on March 10, as his red-eyed wife stood behind him. "I apologize first and most importantly to my family. I apologize to the public, whom I promised better."
It was the most coherent part of a vague and largely defensive-sounding statement that satisfied exactly no one.
Afterward, some officials offered rote statements of sympathy for Mr. Spitzer's family while politely avoiding the issue of whether he should resign.
Senator Chuck Schumer, whose relations with Mr. Spitzer have at times been testy, issued what was perhaps the most revealing statement of the day: "I feel bad for him and his family but until he makes a more complete statement, I have nothing more to say."
March 11, the day after the story broke, was a death watch, from the mob of reporters and TV people staking out the governor's Upper East Side apartment to the sullen (or, in some cases, gleeful) state officials in the halls and warrens of the Capitol.
The general feeling was summed up tidily by Assemblyman Richard Brodsky, who said, "The mood is, 'What the fuck.' I mean, what? What? Could you have seen this coming?"
Most elected officials and aides were in decline-to-comment-for-the-record mode, privately expressing various levels of shock and demoralization. One reponded via e-mail: "No—too devastated. Sorry." Another, who raised money for Mr. Spitzer, said, "I feel like somebody has kicked me in my stomach."
Republicans in the State Senate threatened impeachment proceedings if Mr. Spitzer didn't leave voluntarily. Democrats … offered more well-wishes for the family.
Some tried—valiantly and a little ridiculously—to act as if it were still possible to conduct business as usual.
"I started the day, this morning, with the other members talking about the most paramount issues, which is, the budget has to get done," said Democratic State Senator Diane Savino of Brooklyn. "And we're going to end the day on the same note, no matter what happens."
"The issues that we cared about Sunday are the issues that we care about today," said Assemblyman Jonathan Bing of the Upper East Side, speaking from the floor of the Assembly chambers.
When asked if there were any effort to shield Mr. Spitzer from his baying adversaries, Mr. Bing said, "No, I don't think there is or there isn't. I think people are just concerned about the same legislative and community issues that they cared about on Sunday."
"It's quite hard to imagine, but I don't think the shock has worn off yet," said Assemblyman Joe Morelle, who has been in office for 18 years. "The governor has built his career with bringing people to justice, prosecuting people, so, in some ways, he has a higher standard to meet than most people."
Mr. Spitzer had no public schedule, and—with Lieutenant Governor (and Governor-apparent) David Paterson waiting for a decision—spent the day conferring with an inner circle that seemed split about what his next move should be. The Times reported early in the day that aides said he was going to resign. The New York Sun quoted an adviser, Lloyd Constantine, saying he wouldn't.
But events were moving past him. Robert Zimmerman, a prominent Hillary Clinton supporter, said on CNN that if the facts of the case were borne out, Mr. Spitzer didn't deserve to stay in office. Citizens Union, a good-government group that heartily endorsed Mr. Spitzer in 2006, called on him to resign. Democratic Assemblyman Ruben Diaz Jr. said openly that he wanted a budget passed on time and he didn't care if it were Mr. Spitzer or "Governor Paterson" who signed it.
Bill Samuels, finance chair of the New York State Democratic Senate Campaign Committee, suggested—barely—that some sort of rehabilitation were still possible.
"Unless he sees this as an opportunity for real personal growth on how to be more effective, then there's not a prayer; if he doesn't resign, that he can be effective for reform," he said. "And to that degree we have to see how this plays out. But it takes a radical introspection, like someone deciding, who has a cocaine or drug problem, to finally go into rehab."
Mr. Samuels, who has raised money for Mr. Spitzer's goal of helping Democrats reclaim the majority in the State Senate, added, "The only way Spitzer survives as governor—he's got to be effective for reform. He's got to do something very dramatic in terms of introspection and change. Otherwise, if he hangs on, it'll hurt the reform agenda."
As of press time, Eliot Spitzer was still hanging on.