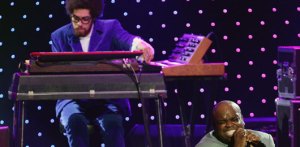 The original release date for Gnarls Barkley's second album, The Odd Couple, was April 8. But the creative partnership of Cee-Lo Green and Danger Mouse has always marched to the beat of its own drum machines; they pushed up the date a couple weeks at the last minute. We were certainly curious whether the new record would provide a clear follow-up to the pop smash "Crazy"; it doesn't, even if "Run" (listen below) captures the unbridled fun of Outkast's popular dance track "Bombs Over Baghdad." EW labeled the new album "dense," but "a compulsively listenable, if somber, effort." Sounds good to me.
The Raconteurs are Jack White and three other dudes (but does anyone really care about them?) Their first album, Broken Boy Soldiers, was released to a chorus of meh back in 2006. This time they wised up. Consolers of the Lonely is being released with no campaign, and producers would only even confirm the album was in the works a week ago. Could Jack White be trying to let the music speak for itself? And how do his rather anonymous bandmates feel about that?
Speaking of no one knowing your name, Canadian indie-rock artists—more of those? Oui!—Plants and Animals release their first full length album today, Parc Avenue. They're distributed by Secretly Canadian, the arty label that in the past has made such impeccable picks as Jens Lekman and Antony and the Johnsons. Prepare yourself for the Next Big (Canadian) Thing.
It's been 16 years since the last B-52's album. It's been six since the last one for the Counting Crows. As with many old acts that continue to make music long after the din of their initial fame has faded, their "comebacks" are more striking for the visuals than the music. Those dreds on Adam Duritz don't look so cute anymore (O.K., when did they ever?). Same goes for the dreadful things on every member of the B-52's. Without further ado, the B-52's (first) and the Counting Crows (second) in 2008. Enjoy!