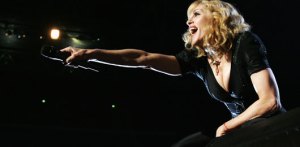 Madonna turns 50 this year and whether one loves or hates her, one has to wonder how many listenable albums she has left. This is as much because every album represents another persona, another clone of the same DNA, as the fact that the woman is turning 50. Eventually, she's going to transform from a M.I.L.F. to a M.I.L.A.L.M. (Mom I'd Like to Act Like a Mom). When a quality version of the single "Four Minutes to Save the World," off her new album Hard Candy (due April 29th), was leaked onto the Internet last week, fans could be forgiven for cringing a bit at Madge's cool-as-a-cucumber delivery being drowned out by the "urban," brassy hip-hop beats. Was it Mommy telling us to turn the music down?
It's just a single, though. Rolling Stone heard five advance tracks in mid-February and had this to report: "Fans who worried that Madonna might be losing inspiration as she approaches fifty need not be concerned." (Hmmm, wonder how they got access … ) With any luck, she'll follow in the footsteps of Dame Shirley Bassey—most famous for her sultry renditions of the James Bond theme songs for Goldfinger, Diamonds Are Forever, and Moonraker—who is still trying to get the party started at 71. The track below is off her new album, Get the Party Started. Enjoy! It gets things flowing as nicely as Metamucil.
With his newest Real Emotional Trash, a solo Stephen Malkmus has released nearly as many albums as Stephen Malkmus and Pavement. And for the last eight years, he has been allowed to explore his idiosyncratic songwriting style without the oppressive imprimatur of the greatest indie rock band ever (as some know-it-alls, namely critics, consider Pavement). Regardless of the inevitable fact that those first five albums would mean far more to the '90's, than the last four have meant to the aughts, Malkmus has consistently churned out his unique brand of thought-rock to the glee of some and the trepidation of others (critics in particular, who potentially found themselves review Malkmus' solo works too early in the grieving process). In Trash, Malkmus has once again surrounded himself him with the highly skilled Jicks, who have been joined by former Sleater-Kinney drummer Janet Weiss. According to allmusic.com, it's an album "meant to be discovered and lived with, revealing its jokes and its beauty over time"—not unlike Malkmus, himself.
When "the founding fathers of goth rock," Bauhaus, broke up in 1983 and each of its members pursued wildly different side projects—Peter Murphy going in one direction and the rest (David Ash, Daniel J., and Kevin Haskins) first becoming Love and Rockets and then making their own solo albums, as well—it was hard to understand how they ever functioned as a band in the first place, let alone one with such a devout, cultist following. To say the least, they would be the last band one would peg for a reunion tour. But Bauhaus did just that in 2005 and stayed together long enough to produce a new album, Going Away White … just long enough. Due to an undisclosed run-in, they have publicly stated that this will definitely be the last Bauhaus album ever and they will not be touring in support of it. Thanks for the memories!
Dig, Lazarus, Dig,represents Nick Cave the Bad Seeds' 14th studio album. Since forming the band in 1983, Australia's prodigal son has been remarkably prolific, spinning out a lifetime's worth of literate yarns set to a post-punk groove. Lazarus, which is available today in Australia and on the Internet (and in the U.S. on April 8), promises more of the same with perhaps a bit more swagger (he's a screenwriter, now!).
If you are a fan of electronica and techno, it is imperative to assert the importance of Autechre. Explaining why they're important is a whole other problem—somebody else's. Let the true "fans" decipher, Quaristice, the most recent addition to their vaunted oeuvre.