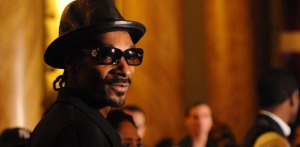 On December 4, 2007, months before Snoop Dogg planned to make appearances on MTV's TRL, The Late Show With David Letterman and for good measure, Late Night With Conan O'Brien to promote his newest album, Ego Trippin' (out today), he was on Ellen, introducing the world (and an audience of very, very excited 30-year-old women) to his new single, Sexual Eruption, or as it was sung on that day to appease the censors, Sensual Seduction. Yes, sung—not rapped. Crooned, to be exact, like he was channeling his inner-Curtis Mayfield. Considering the many twists and turns Snoop's career has taken since the release of Doggystyle 25 years ago, it was not surprising in and of itself to see him on a daytime talk show. What was of note was that he was singing about giving a woman an orgasm and the studio audience was … eating … it … up. Next stop: The View!
The Zombies were never destined to be as successful as the Beatles or the Beach Boys, despite the fact that in the mid-to-late sixties they made songs arguably as mellifluous and harmonic as their more famous colleagues. In five years of work, between 1962 and 1967, they wrote a couple of hit singles and only one LP, Odessey and Oracle (do Zombies have spellcheck?), which clocks in at a little over 30 minutes. It would be exulted and parsed long after the band broke up, frustrated with their lack of recognition. For its 40th anniversary, RSK is releasing a two-disc special edition with both mono and stereo versions of the album, "authoritative and extensive liner notes" which include an interview with band leader Ron Argent, and six bonus singles. Remarkably, this one is guaranteed to sound just as good as it did 40 years ago, if not better, given the luxury of hindsight.
After listening to Oakland's Why?, one begins to realize that the name is not a cutesy indulgence in irony, but a real question of legitimacy. Their eclectic arrangements, often comprised of an odd blend of folk and hip-hop, can be frustratingly inane. But their outré approach more often than not has a satisfying payoff. So, why not take a listen to their newest, Alopecia. (In case you were wondering, alopecia is a loss of hair, wool, or features, according to the dictionary. Did I mention these guys are smooth?)
Jason Drake likes to work alone. Based out of New York City, he plays all of the instruments on his albums, the 2006 EP Nobody's Moving and 2008's Small-Time Machine, coming out today, and then mixes it all together on his laptop. What emerges is a wry blend of musical tastes—sometimes it's dance, sometimes it's hip-hop, and sometimes it's even Liz Phair, whom he's covered. There's plenty of experimenting, which is to be expected; if Drake fails at making music, he's got a pretty good job to fall back on as the Director of Marketing for Def Jux, the vaunted underground hip-hop label.
You may not recognize the name Kevin Ayers, but you've probably heard of Soft Machine, the seminal psychedelic band he co-founded in the late '60's. (They toured with Jimi!) But Ayers didn't last long with the band, beginning his solo career almost concurrently with the start of Soft Machine. He has made over a dozen albums since then, none of which seemed to approach the brilliance or success of Soft Machine, but which still, apparently, had a peculiar charm. Unfairground is his first album in 15 years. To take a listen, you'll have to go to his myspace page. Too lazy? A favorite Soft Machine track can be heard using the player below.