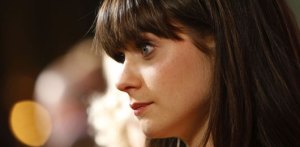 On the heels of the manic, overwhelming SXSW festival, it may be difficult to get excited about a couple of ordinary album releases. But his week has it all: a pleasant surprise, a couple of highly-anticipated veteran releases, an introduction, and a catchy single.
You may have never heard of She & Him, but you've heard of them both. The "she" is actress Zooey Deschanel. The "him" is the talented singer-songwriter M. Ward. According to early chatter, Deschanel is the real thing and dispatches from SXSW suggest the same. You be the judge: here's a video from Austin.
There are so many noteworthy things about Dan Bejar—his ultra-reedy voice, his evocative songwriting, his humongous head of hair—that when you're confronted with him without the New Pornographers, as you are when he's performing with Destroyer, his solo project, it can sometimes be a bit much. But it can also be sublime. His newest is Trouble in Dreams. Below is a video of a Silent Night remix of single "Foam Hands" off the new album.
The fact that the Crystal Castles name was inspired by She-Ra's fortress in He-Man should send up red flags, but this synth-pop outfit from Toronto is poised to scream its way into your hearts. Evidence to follow …
The duet the Kills has put together a little promotional video (below) for their third album, Midnight Boom. Don't hold it against them.
The first song off Oakland's The Matches' third album, A Band in Hope, is very catchy and, er, hopeful. Spin cover forthcoming.