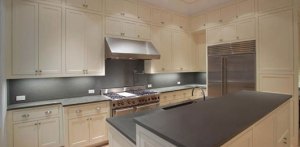 Back in 2002, when the bearded home-renovations guru Bob Vila listed his Tribeca loft (a floor beneath Mariah Carey's place) for $5,250,000, The Observer teased him for demanding more than $1.8 million over what he had paid two years earlier.
Mr. Vila, who spent the 80's hosting the PBS show This Old House, finally sold the place in 2004 for $3.725 million, barely making a profit—and maybe losing a bit, depending on how much renovations cost.
But he moved on. That year he spent $4 million on a 110-year-old brownstone at 21 West 75th Street. Its previous owners, who had both just died, bought the place back during World War II. Their brownstone was broken up into nine units.
Now Mr. Vila is asking nearly three times what he paid in 2004.
After renovating the brownstone with his son Chris, he's put it on the market for $11.5 million. Their renovation was filmed for season 15 of the TV show Bob Vila's Home Again: Clips like "Salvaging the Sink and Removing Asbestos Tile" or "Installing the Chimney Liner" are available in all their artful glory online.
"The renovation was completed several weeks ago, actually," said the listing broker, CORE Group's David Gergely. The house was refurbished into two duplexes (including a duplex penthouse with two glass skylights and a roof terrace), plus a full-floor apartment. But then there are the rear half-floor apartments on the first and fourth floors, which Mr. Vila couldn't touch because there are still rent-stabilized tenants there.
To describe the renovated units, the listing boasts some excellent house lingo: The floors are quarter sawn ash; the bathroom fixtures are high-end chrome; the millwork is custom.
Meanwhile, the penthouse is being rented for the year at around $15,000 per month, and the duplex downstairs has been filled at around $10,000. Both those leases will be finished by this time next year—"we just wanted to produce an income for the landlord," Mr. Gergely said, "that's why we rented out them out." And if they're patient, buyers could buy the place to eventually use as a single-family mansion.
But not everything has been smooth. In December 2005, a neighbor complained in the New York Post that "non-English-speaking workers" drilled from Vila's brownstone straight through the wall. "I am a 9/11 survivor," the neighbor said. "I can't sit here with this ash and dust."
"That was way before I came in," Mr. Gergely told The Observer. "As far as I know, there are no outstanding issues."