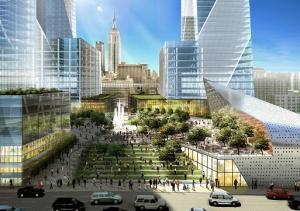 Maybe it's best to keep the champagne on ice just for a few more days.
There's a bit more work to be done on the deal between the Metropolitan Transportation Authority and Tishman Speyer over the West Side rail yards, as the MTA did not give, as it once planned to, a "conditional letter of designation" to Tishman today for the deal. With some final details yet to be ironed out, that designation comes in the next 14 days, to be followed by a contract within 120 days after that.
The MTA board, which normally would approve a conditional letter, gave MTA director Elliot Sander the authority to issue the letter himself (not all that unlike Congress' 2002 vote to authorize President Bush to go to war in Iraq) within the next two weeks. The conditional designation, however, must conform to a set of terms outlined today that include the price: Tishman Speyer will pay about $1 billion to the MTA.
The details were made public at the MTA board meeting this morning.
More on the yards to come.