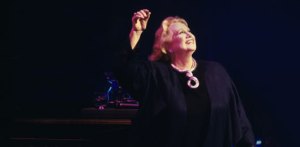 In weeks this bad, there's no underestimating the calming value of cabaret. Tovah Feldshuh's master class in versatility at Feinstein's is called "Tovah in a Nutshell." She means it. She's won awards as Tallulah Bankhead, Kate Hepburn and Golda Meir. Now you feel like she's throwing a party in her own family room and you're invited. The night I was there, so was the family. Like a talented kid goaded by her mom to show off, she can do everything. "Dahlink, show Grandma Ada!" "Sweetheart, give 'em Sophie Tucker!" She does, separated by blackouts when she ditches the sequin jacket, pins back the hair, climbs into heels, wraps a scarf around her head—and out come the characters who've lived in her brain, her movies and her life. She's a lonely old man on a retirement pension who doesn't know what to do with himself. She's a Spanish "Miss Subways" whose goal is to solve world hunger while scraping chewing gum off the streets. She's a lockjawed debutante from Greenwich named "Muffy." She's Sylvia Chronic, a depressing radio personality who delivers monologues on how to select the proper casket. She's Molly Kelly Kugelberg, a mixed-up 8-year-old who wants to know: If your mother is a lapsed Catholic and your father is a "cultural Jew," what do you do on Christmas? The stage is small and the atmosphere intimate, but there's plenty of space to showcase the many faces of Tovah. She does bawdy 1922 Sophie Tucker jokes. She sings Gershwin. She reads a poem by E. E. Cummings. The fingers move. The hands move. The legs move. You're impressed. You're exhausted. She's quick, she's funny, she's agile, her talent is so bountiful you forget how petite she is. She gives you your money's worth, at breakneck speed. What she doesn't do is towel off the sweat and give you one minute of the kind of shared intimacy that can break your heart. But what the hell? It's a party. Where are the cupcakes?
Meanwhile, everyone loves Barbara Cook, including the critics. Trouble is, we've run out of laudatory adjectives. She deserves them all, but no matter how loud and sustained the applause, describing what she does is beginning to read like a thesaurus. In her present six-week run at the Carlyle, the spotlight once focused on Bobby Short is centered on a warmer, more romantic set of love songs. She performs them flawlessly.
Opening with the Al Jolson evergreen "There's a Rainbow Round My Shoulder," she brings back the F. Scott Fitzgerald glamour and sound of a big-band party floating across the Sound in the 1949 Alan Ladd version of The Great Gatsby. Rodgers and Hart's "Where or When," Irving Berlin's "I Got Lost in His Arms" and an a capella "For All We Know" remind us of the greatness of the Great American Songbook and why we never tire of hearing more. But Barbara also touches the heart with the work of a talented new writer: Once you hear John Bucchino's "If I Ever Say I'm Over You," you'll know why this critical discovery is heading for the reverie of the masses. A handful of people are still alive who can write songs with beauty, meaning and soul. Mr. Bucchino is one of them. For a hip-swinging change of tempo, dig what she does with "Sooner or Later," a showstopper that was introduced by the one and only Hattie McDaniel in the Disney classic Song of the South. Clever? Been there. Unforgettable? Said that. In a class by herself? I think I printed that the last time. You can see the problem. One likes to encourage new kids on the block, but there's safety and security in the presence of the old pros. Barbara Cook seems to be singing somewhere every night. I have the feeling she sings in bed while watching Law and Order. She does it better than anybody else, and all you can do is smile, be grateful for her ageless perfection and genuflect when she passes by.