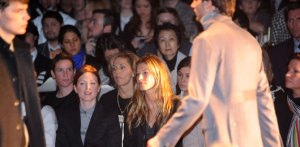 Heathcliff Felix Alastair Euan Rellie turns 5 on July 31. He was born at Saint Vincent's Hospital downtown. He's in his final year of preschool at the West Village Nursery School. He collects the Power Rangers Space Patrol Delta figurines, which are much better than the new series, which are called Jungle Fury. He is almost four feet tall, loves to sing and is fond of creating imaginary battlefields involving lasers and lava on chairs or tabletops. Occasionally he turns up at a fashion show or a fund-raiser or a party with his parents, Lucy Sykes and Euan Rellie. So far he has four pages of pictures on patrickmcmullan.com. He's catching up with his parents, who between them have around 50.
Heathy, as they call him, can count up to 10 in both Spanish and French. He begrudgingly performed this task for me on Feb. 1, during Fashion Week while sitting in mummy's lap in the front row of the Rag & Bone show. He had brought a toy plane to the show.
"He's very excited about this bit of theater," says Mrs. Sykes, who designs an eponymous line of children's clothes.
"This is my plane," said Heathcliff. He was wearing baby blue Wellington rain boots, jeans and a beige knit zip-up sweater and collared shirt of his mother's design.
"Pow, pow, chhhh kapow," he said, zooming the plane through the air.
"Lucy's always reluctant to bring him to shows because she thinks it's a bit pretentious," said Mr. Rellie. They make exceptions for close friends, like Andrew Rosen, who is involved with Rag & Bone.
"BI 17?" Heathcliff wondered aloud, looking at the number on the chair. "I am in jail. I'm in ja-illl." He pressed his face against the poles on the back of the chair. (He will tell you that school is also like jail.) Then he burst into a song by the Naked Brothers Band. He couldn't remember the name of the song.
"It's nice hearing you sing, though," said his mother.
Heathcliff has excellent manners, and knows to say please and thank you and nice to meet you. When Mr. Rellie calls his wife "Loo," the boy rallies to her defense and says, "You're naughty." When his dad laughs he becomes annoyed. "What?" he demands. Heathcliff doesn't like it when people laugh at him.
When the show began, he became quiet as a mouse and appeared to be studying the models closely, his sandy-haired head training on them as they passed by. When the show was over, he clapped his little hands until the last model was off the stage.
"It was boring," he said. "I don't want my picture taken."
Last week, over an early supper of mac and cheese at his favorite restaurant in the world, the Diner, on Ninth Avenue and 14th Street, Heathcliff talked about some of his favorite things. He was wearing a Kule sweater, an Etro striped shirt, Levis blue jeans and Jon Varvatos Converse sneakers, no laces.
He had with him a green SPD Power Ranger, which is his favorite toy. His favorite names are Heathcliff, Euan (pronounced Yoo-in) and Titus, which is the name of his brother, who, the boy informs me, is 10 months old and can already walk from one couch to the other. Titus' full name is Titus Jasper Jake Icarus Rellie.
Heathcliff's favorite sport is baseball, especially batting. He loves the Yankees and owns a cap and a shirt. His favorite TV show is Max and Ruby. His favorite word is "kooky," which he learned from another show, Waa Waa Wubbsey.
"The orange guy says, 'That's kooky,' when something happens," he explained.
He sat up very straight in his booth, getting himself as close as possible to grown-up height. When he smiled, as he often does, his whole face lit up. He held his apple juice with both hands.
His best pals at school are Cameron, Emil and Caleb. Their favorite game is running around the racetrack. Caleb had been particularly funny earlier that day at snack time.
"He said, 'My mom is a castle,'" Heathcliff said. "And Emil said, and then Emil said, 'That means she's fighting with a bad knight.'"
He also likes Sophie, who he used to have a bit of a crush on because she's pretty, and Helena, who already knows how to click her fingers, and Rosa, with whom he had arranged a play date. Heathcliff goes on about three play dates a week.
Play dates with girls are trickier, because Heathy prefers to play with boys' toys. But that doesn't apply to Rosa, interjected Heathcliff.
"Rosa likes Power Rangers," he said of Rosa, who has older brothers. He hears everything.