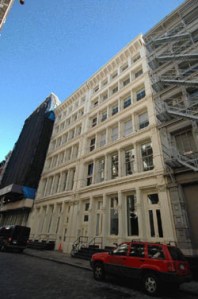 Sometimes even good New Yorkers get wrapped up in very bad things. And then, if they're lucky, they buy $10 million Soho penthouses to recuperate and repent in while the tabloids move on.
Last August, the 40-something father of two Edward Scheetz found his 23-year-old girlfriend stiff and "different funny colors" in his Las Vegas apartment. Mr. Scheetz, the CEO of Ian Schrager's old Morgans Hotel Group, was not accused of wrongdoing in the death of the woman, a high-school dropout who had worked in a tanning salon: Her body held large quantities of cocaine and oxycodone.
Mr. Scheetz stepped down as CEO in September, and now just six months later he has a new apartment to boost his spirits. According to city records, he paid $10 million for a penthouse at 20 Greene Street.
Old listings show that the place has a total of 6,189 square feet of indoor and outdoor space, beamed 13-foot ceilings, a wine cooler, a steam room and a Jacuzzi tub. There's also space for a large Jacuzzi tub on the roof terrace.
But how do his decorating tastes run? Last year Mr. Scheetz had Philippe Starck's famous lobby at the Royalton gutted and replaced with leathery, metallic noir décor, including a two-sided gas fireplace.
So, of course, there's black granite in the master bathroom of his old place, a 5,262-square-foot apartment at 76 Crosby Street, which he bought from Kelly Ripa in late 2006 for $6.7 million. It's now on the market with Sotheby's International Realty, asking $9.4 million. The listing says it includes "his/her separate customized walk-in wardrobes," plus, oddly, an "oversized walk-in shower with rain forest and large soaking tub."
When asked about his client, listing broker Keith Copley said, "He's a great guy, he's a wonderful person, very nice guy."
Besides Ms. Ripa, who now has the 76 Crosby duplex penthouse, Mr. Scheetz is leaving old neighbors like Nick Denton, the Gawker Media mogul. In a November Gawker post (not written by Mr. Denton), the gossip blog teased Mr. Scheetz for his Vegas troubles, reprinting one of the 23-year-old's text messages: "I cant belive [sic] how much coke he does all the time all day long."
The Real Deal's Web site broke the news of the purchase.