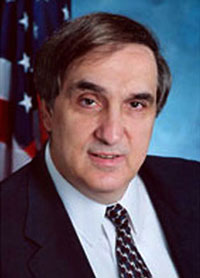 Earlier this month, in the brief few-day period when only one governor was embroiled in a sex scandal, Brooklyn Assemblyman Vito Lopez introduced a bill to use eminent domain to take pharmaceutical giant Pfizer's approximately 15-acre manufacturing plant site in East Williamsburg and turn it into affordable housing (he's talked about this previously).
With the plant slated to close later this year, Pfizer had put out a search in January for developers to buy the land and build a mixed-use, mixed-income development out of the site.
Though the company has yet to report any progress along that front, and even that concept—of a mixed-income complex—angered Mr. Lopez, the Assembly housing committee chairman, who previously has expressed revulsion at the notion that the company would proceed down a path that would bring it any significant financial gain.
The bill, introduced March 13 with 20 other legislators signing on, instructs the Division of Housing and Community Renewal to take the property with eminent domain. In the bill's justification listed on the Assembly's Web site, Mr. Lopez said he was taking action on Pfizer because it failed to donate its land, as it has done in other instances. "Though Pfizer has shown concern for other communities coping with job loss and housing needs, it appears the global company has little interest in returning the land in question to the State of New York," the justification reads.
Assuming Mr. Lopez can read the tea leaves as well as any other veteran Albany legislator—one would imagine the bill has little chance of going anywhere—perhaps he is using it to push Pfizer to include more affordable housing in whatever becomes of the site.
Pfizer opposes the measure (who would have thought), and emailed this response:
Pfizer Inc strongly opposes A10272 (V. Lopez), a bill to allow the seizure of Pfizer-owned property in Brooklyn by eminent domain for the development of affordable housing by New York State. Not only is the concept of state-sponsored eminent domain extremely premature at this point and potentially chilling for development statewide, but the legislation's justification fails to mention that affordable housing is one of the key uses currently being considered as part of potential future private development scenarios for this property.
Update 6:05 p.m.
Pfizer e-mailed earlier to say that they have extended the date of their request for proposals to April 24.