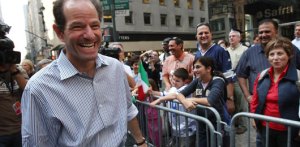 As news broke yesterday of Eliot Spitzer's repeat visits to high-end prostitutes in the employ of the Emperor's Club, offices across the city were buzzing with speculation about what "unsafe" sexual favors the Governor might have requested.
Although Governor Spitzer reportedly paid about $3000 for his Feb. 13th date, the most expensive Emperor's Club ladies are paid $5,500, according to the New York Times. I wondered: what would New York women do in a boudoir with Eliot Spitzer for $5,500? Answer: a lot!
"Pee on him, shit on him. He could pee on me but not shit on me—have to draw the line somewhere!" wrote an accomplished graphic designer with two kids, in an email. "Domination fine (I think I would enjoy that, dominating him, I mean)…anal okay (I imagine he's got a little joe anyway). No hot wax or anything that scars."
What would she spend the money on? A Birkin or Kelly bag, to be named Eliot; a villa in Positano; or a platinum print at a photo gallery.
"I'd totally have sex with or give a blow job to Spitzer for $5,500," said a 32-year-old writer. "Hell, probably even for $3000!" Dressing up or dominatrix stuff would also be fine since, as she said, "I love a good outfit!" But anal sex, "which is probably right up there in the top three of what these old white boy freaks want," would be "a tough sell."
With the money, said the writer practically, "I'd clear my debt, pay my rent and put the rest away for taxes and savings. Oh, and I'd also go to the dentist. Think about it: One hour and all that would be taken care of!"
Another writer, a politically savvy one in her early thirties, sounded like she was positively fantasizing about the idea of a date-for-hire with Mr. Spitzer. "I would be Joe Bruno," she instant-messaged "And, like, mocking him, with a strap-on…. I would let him come on my face, I think. He could tie me up. Actually, that would be kind of hot." I suggested she'd need a safe word. "Troopergate," she typed. Then she suggested that she would also consider a threesome with Andrew Cuomo.
Not everyone was quite so enthused. A blond woman in her mid-20s, when asked what she'd do with the Governor for $5,500, replied, "probably nothing!" What morals!
Pressed to reconsider, she said that she'd "probably limit my services to striptease, dirty talk, letting him suck on my toes, dressing like a French maid, whipping him. For $10,000 I might consider giving him an erotic massage." With the spoils, she'd pay retail for a Marc Jacobs bag ("that might be kind of a thrill!") or book a two-week trip to Fiji, where she'd stay in a beach bungalow and get a massage every day.
A Sarah Lawrence professor in her late 30s had a whole other notion. For $5,500 (and a generous cut of the royalties and movie rights) "I would ghostwrite the inevitable tell-all," she wrote in an email. "Suggested title: "How I Fell Off My High Horse: [Insert distasteful subtitle having to do with "riding" here.]."
And on what would she blow the cash? Probably a couple of sweaters from Butter on Atlantic Avenue. "But if I were good I'd donate the money to Democratic candidates for state government," she said. "They are so fucked."