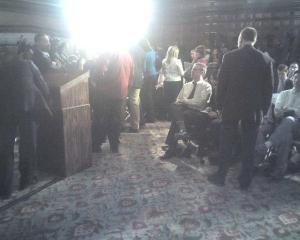 Here's the scene in the red room, on the 2nd floor of the capitol, which has been reconfigured slightly to accommodate all the reporters.
I've counted 28 television cameras here, compared to fewer than 20 at events for Joe Bruno and Sheldon Silver yesterday.
There are also a few photographers waiting to catch Paterson walking down the stairs from the 3rd floor.
How important is this event?
As one reporter here just told a colleague, "Whatever he says here will be news."