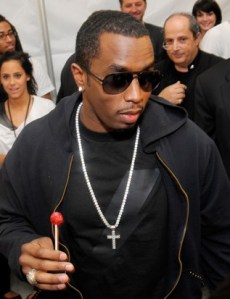 This week's big media story was undoubtedly the Los Angeles Times' erroneous report that alleged Sean "Diddy" Combs and his posse were responsible for a 1994 attack on Tupac Shakur outside the Quad Recording Studio in New York. The report, by Pulitzer Prize winner Chuck Philips, which first appeared on LATimes.com on March 17 along with several supposed F.B.I. documents implicating Combs, immediately prompted an investigation by The Smoking Gun, which determined that the documents—and the information they contained—were false.
Here's a look back at how the story of the early 90's East Coast/West Coast rap feud turned into a cautionary tale about journalism.
March 17: LATimes.com runs Chuck Philips' story which immediately prompts Combs to release a statement asserting, "This story is a … It is beyond ridiculous and is completely false."
March 19: The piece migrates to the print edition, running on page one of the Times' Calendar section.
March 26: The Smoking Gun posts its investigation, pegging the false documents to a con man named James Sabatino, whom the site described as "little more than a rap devotee, a wildly impulsive, overweight white kid from Florida whose own father once described him in a letter to a federal judge as 'a disturbed young man who needed attention like a drug.'"
March 27: The Times apologizes to its readers. "In relying on documents that I now believe were fake, I failed to do my job," Philips said in a piece by Times staff writer James Rainey. Other media outlets begin weighing in, like The New York Times' David Carr who quoted The Smoking Gun's William Bastone as saying of the false FBI documents, "The acronyms, the redactions, the type face—none of it looked like any 302's we had seen and we have thousands of them around this office." Slate's Jack Shafer offers an explanation of why the paper might've been bamboozled, stating sympathetically, "what happened at the Times isn't unique to newspapers. Con men have forged documents to perpetrate financial swindles, scientists have forged laboratory results and published their 'findings' in the best journals, and police have manufactured evidence to convince juries to imprison innocent people. So don't be quick to claim that you could never be similarly hoodwinked." The New York Post's Page Six compares the forged F.B.I. documents to the fake memos that sunk CBS's investigation into George W. Bush's Air National Guard tenure. New York's Vulture blog uses the incident to further mourn the end of The Wire, suggesting that if the HBO series' tough-minded Metro editor were on the case (and, you know, real) none of this would've happened: "If only Gus Haines worked at the L.A. Times!" Portfolio's Jeff Bercovici jokes, "Now it's suin' time."
March 28: The New York Times also links the story to the 2004 Air National Guard documents as well as its own recent run-in with Love and Consequences fabricator Margaret Seltzer who, like Shakur, claimed to be a straight up gangsta. Combs' lawyer tells The New York Times that the Los Angeles Times' correction is "at best, a first step, but it doesn't undo the false and defamatory nature of the story." Reader comments continue to flood LATimes.com (example: "your 'news' paper sucks"; "sue diddy sue!")
Next up? The Los Angeles Times' internal investigation and another round of media hand-wringing. Stay tuned.