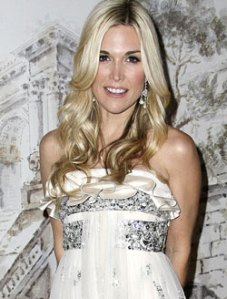 A couple of hours into the Frick Collection's Annual Young Fellows Ball on Thursday, March 13, socialite powerhouse Tinsley Mortimer seriously needed a break.
It had been a long week of benefits. The American Museum of Natural History on Tuesday (which Ms. Mortimer had helped chair), then the Museum of the City of New York on Wednesday, now this, which she was also co-chairing.
The blond beauty was sitting on an elegant padded bench in the antechamber to the ladies room in the museum's basement. A small gaggle of satin-and-tulle-encased young women had gathered around to gossip and reapply makeup. Ms. Mortimer looked like she wanted to collapse into the poufs of her gown, a fluffy white confection that designer Elie Saab described as "very goddess."
"Tomorrow, I'm sooo excited, because I'm doing nothing," Ms. Mortimer sighed. "It's fun to get all dressed up. But it's also fun to put on Juicy sweats."
Upstairs, the event's guests were circulating around the Frick's main courtyard and peeking out from behind a variety of masks, which they had donned in accordance with this year's theme, "Un Ballo in Maschera" ("Masked Ball").
Event planner Mimi Van Wyck had painted her own "mask" using shimmery green, purple and gold eye makeup. She was rather impressed with herself, because, she explained in a southern drawl, "I don't put on makeup on a daily basis."
Ms. Van Wyck was wearing a black-and-green satin brocade dress by Alexander McQueen, a more subdued take on the gown the British designer had crafted especially for her wedding last year in South Carolina, she said. "I was a white peacock for my wedding. So I wanted to still be a peacock … but green."
She and friend Sara Straus, an executive at the design firm Herman Miller, were taking a stroll through the galleries, which were open to partygoers but attracting scant traffic. Ms. Straus was recycling a pink-and-green mask adorned with silk flowers that a designer friend had created for Ms. Van Wyck's wedding. (She had made a matching purse herself, out of a small flowerpot.) "In New York, you're always so known that to be unknown is a beautiful thing," she said of the masquerade theme.
Ms. Van Wyck nodded heartily.
Museum donors Tom Cannon Jr. and Joseph Hardy were taking a break from cocktail-party chatter to inspect some paintings in the museum's Oval Room. They had just returned from the Venetian Carnevale a few weeks earlier and decided they might as well reuse the elaborate costumes they had assembled from "a large part of our mothers' jewelry," as well as from the Salvation Army near their weekend homes upstate.
"Believe it or not, this used to be a woman's cocktail dress," Mr. Cannon said, displaying a sparkly tunic. This was their seventh or eighth Young Fellows ball. The crowd keeps getting younger and flashier each year, they said.
"It used to be 30-somethings," Mr. Cannon said, sounding a little indignant. "I feel old tonight. But not too old to leave."