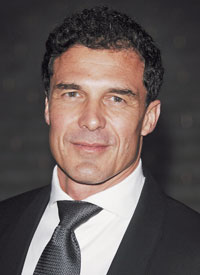 Crushed grapes in Chelsea! The hugely hyped, High Line-straddling Standard hotel, slated to open in fall 2008, might be getting its own house hooch.
Its handsome proprietor, André Balazs, is close to launching his own signature wine label, according to sources in the hospitality industry.
Possibly popping corks as soon as this summer, Mr. Balazs would join a bevy of other celebrity vintners, including filmmaker Francis Ford Coppola, domestic diva Martha Stewart and X-rated film star Savanna Samson. (Can you guess which woman earned a ranking of 90-to-91 from famed wine critic Robert Parker?)
Presumably some type of rosé is in the works, as Mr. Balazs has made no secret of his thirst for the pink stuff. His affinity for Provence producer Domaine Ott, in particular, is almost as well documented as hip-hop mogul Jay-Z's love-hate relationship with Cristal Champagne.
Mr. Balazs was traveling in Africa this week, according to his rep, and was unavailable to provide any juicy details.