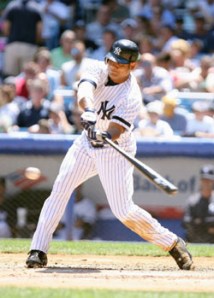 Is slugger Bobby Abreu copying fellow Yankee outfielder Johnny Damon's real estate moves?
Last year, Mr. Damon sold off his 39th-floor apartment at One Beacon Court, the celebrity-friendly glass condo on East 58th Street, for $8 million. Two floors down at One Beacon, Mr. Abreu might have felt lonely without the pinstriped company. He just listed his two-bedroom for $7.9 million.
That's a much more ambitious price than the tag for Mr. Damon's condo, which was 2,410 square feet instead of Mr. Abreu's 1,762. And consider that Mr. Abreu paid just $3.8 million in April 2005, which means he's hoping to more than double his money—whereas Mr. Damon paid $5.6 million in February 2006, not incredibly far off from what he sold it for.
Asked if Mr. Abreu, who turned 34 this week, had done any work on the apartment, listing broker Jeff Silverstein of Century21 NY Metro said, "Nothing." But on the bright side, the place has a hugely windowed living/dining room, a marble bathroom with oversize tub (and separate shower) and two bedrooms with Central Park views. And the high-end market is still so good that models and athletes and bankers can get just about whatever they want for their high-floor condos.
"You can tell that a bachelor lives there. It's just very minimal," said Mr. Silverstein, who wouldn't comment on his client but was willing to describe the condo: "a guy's apartment kind of thing—a sofa, a big TV, a big TV in the bedroom, a bed, not much furnishing."
Marketing photographs also show a bachelor's mirror in the bedroom, tilted (of course) slightly toward the bed. And there's a telescope in the dining room, too.
Why is Mr. Abreu selling? The right fielder bought the apartment as an investment property when he was still playing for Philadelphia. At the time, when he was making $13.1 million per year, his real estate holdings stretched to Miami and Venezuela. Considering his taste for real estate, and that he'll make $16 million this season, it would seem that Mr. Abreu's likely to upgrade to something massive.
In the meantime, he has another apartment five blocks south, a three-bedroom condo bought in November 2006 for just under $2.5 million—though that's being rented out.