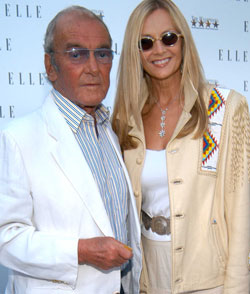 Even if schadenfreude is universal, few human beings take joy in others' suffering quite like high-end brokers, the kind with silk scarves, Harvard degrees and chauffeurs. They especially love when other agents can't sell big listings, especially if something tangy got in the way.
So brokers have been merrily whispering about the odd fate of the penthouse triplex at 895 Park Avenue, listed late last year for $29.5 million with Alexa Lambert, a top broker at Stribling. Amazingly, it took only 28 days to go to contract, as reported by The Observer in November.
But something went wrong: The board-approved buyers, a hedge-fund man and his wife, are getting divorced. The rumor was that the husband preferred to drop the 10 percent deposit—which, if the apartment contract was for full asking price, would be a heartbreaking $2.95 million—supposedly because divorce laws here assure "equitable distribution" between spouses. So if he went through with buying the $29.5 million apartment, the story went, he'd probably have to split it with his ex-wife. So now the listing is back on the market.
But a source with knowledge of the deal said that that version of the story isn't entirely true. As it happens, the couple did indeed opt to give up their massive deposit—which, even if discounted, is more than the price of two average Manhattan apartments. But the source said the husband wanted to finish the deal, and it was actually the wife that wanted to back out: "He understood it was bad form to give your word and not follow through, so he would have closed and flipped."
And as for those equitable distribution laws, divorce attorney John Zulack pointed out to The Observer that the apartment would have been bought with shared money that would likely be divided evenly anyway. (So backing out probably wouldn't save the hedge-fund husband anything.) But here's this: If the wife needlessly forced the forfeit of a multimillion-dollar deposit, Mr. Zulack said, that could be considered "dissipation of marital assets" and count against her in the divorce settlement.
The seller, ex-model Bonnie Pfeifer Evans, left, probably isn't thrilled. She's the widow of Charles "Mr. Lucky" Evans, who produced Dustin Hoffman's Tootsie (his brother was Bob Evans). Ms. Evans was reportedly left with nothing in her husband's will, but she's said to have a broker's license—and, oddly, wants to get a commission from the triplex sale by representing the buyers.