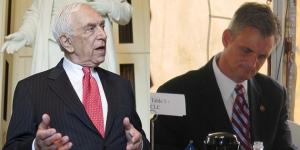 For the first time in eight years, it will be up to New Jersey's Democratic voters to determine their party's nominee for a statewide office. Here's a look at one of the major factors that will shape this June's Senate fight between incumbent Frank Lautenberg and challenger Rob Andrews:
The County Lines
These are uniquely important in New Jersey politics. In most states, every voter's ballot looks pretty much the same, with candidates grouped together by the office they're seeking, and with their names arranged in some kind of coherent order.
Not so in New Jersey, where each county's Democratic organization runs its own official primary slate, an important-looking, easy-to-find column listing candidates for every office, from the statewide to local levels. The county organization also backs its slate with money, field workers and a G.O.T.V. program. When there are contested statewide primaries, each county organization gives "the line" to one of the candidates. The other candidate (or candidates) must then either organize a competing slate (usually resulting in an incomplete column with lesser-known local names) or run alone, with his or her name potentially getting lost on the crowded and confusing ballot.
Another wrinkle: Not all lines are created equal. New Jersey has 21 counties, but a handful of them are generally determinative in Democratic primaries: Essex (Newark and the surrounding cities and towns), Hudson (the gritty cities and towns near the Lincoln and Holland Tunnels) and Camden (in South Jersey) represent the three biggest old-time urban machines in the state. Not only are these counties heavily populated, but their party organizations are particularly strong—able to deliver voters to the polls by the busload to vote the line. Bergen, Union, Middlesex and Passaic are also large counties with generally strong machines. The line is much less valuable in suburban Republican bastions like Morris and Sussex Counties.
A perfect illustration of the value of the line can be found in the last Democratic primary, the 2000 Senate race between former Goldman Sachs co-chair Jon Corzine and former Governor James J. Florio. Corzine, with his bottomless pockets, essentially purchased the line in Essex County, the top vote-producing county in Democratic primaries. Florio, backed by the South Jersey party machine, enjoyed the line in Camden. Here is how each county voted:
Essex:
Corzine: 46,296 (76.7%)
Florio: 14,047 (23.3%)
Camden:
Florio: 28,187 (77.0%)
Corzine: 8,429 (23.0%)
That's the power of a strong line.
Andrews would not have gone ahead with his challenge to Lautenberg without the assurance of some significant organizational support outside of his South Jersey base (which only accounts for about 30 percent of the overall primary universe). Earlier this week, it looked like Andrews would be rebuffed in his push for county lines in North Jersey, but some surprise developments late Thursday changed everything.
So where do the lines stand right now? This table projects how each county organization will break. The "share of statewide vote" column reflects the percentage of all primary votes statewide cast by voters in each county. It is based on figures from the 2000 Senate primary—the last contested Democratic primary in New Jersey. (I intentionally did not use this March's presidential primary data, because turnout was unusually high and skewed away from the strong machine counties; this is because the G.O.T.V. operations of most county organizations were not activated, since there were no county and local races on the ballot.)
Add them all together and you get this:
Andrews: 45.98%
Lautenberg: 54.02%
This puts Andrews in an excellent position as far as county lines go, especially when you consider that he may be able to make inroads in two giant North Jersey counties where Lautenberg figures to have the line: Essex and Hudson.
In Essex, Andrews picked up the unexpected endorsement of Steve Adubato Sr., the longtime party boss of Newark's North Ward and the mentor to Essex County Executive Joe DiVincenzo, on Wednesday afternoon. This does not mean that DiVincenzo himself will back Andrews—most seem to expect he will stay neutral&mdsh;and other top Essex figures, including Congressman Donald Payne (whose cousin, Phil Thigpen, is the county chairman), State Senate President/former Governor Dick Codey and Newark Mayor Cory Booker, are all with Lautenberg. But Adubato's support suggests that Andrews will be able to organize a credible rival slate, allowing him to run "off the line" but with some local muscle (and recognizable local candidates) behind him. This could narrow the advantage that Lautenberg would otherwise get with the line.
The same is true in Hudson, where Jerramiah Healy, the Jersey City mayor and county chairman, is with Lautenberg, as is Senator Robert Menendez, who rose through the Hudson ranks. Andrews has a friend in Brian Stack, the mayor of Union City (a heavily Hispanic city of about 80,000). Stack added a State Senate seat to his résumé last year, and quickly formed an alliance with George Norcross, the South Jersey powerbroker who likes to keep a hand in the major North Jersey counties. Norcross is heavily invested in Andrews' campaign, which means that Stack is likely to help Andrews organize a credible off-the-line slate in Hudson, again cutting into the margin that Lautenberg would otherwise enjoy with the support of the official county organization. (Stack is inisisting he's undecided in the race, but the expectation remains that he will ultimately team up with Andrews and Norcross.)
The biggest wild card in the above projections is Union, a vote-rich North Jersey county with a strong Democratic organization. There are signs that Raymond Lesniak, a former state party chairman and a powerful state senator, wants to side with Andrews and will deliver his home county line to him. But Charlotte DeFilippo, Union's chairwoman, is fond of Lautenberg and has expressed support for the incumbent. So has Joe Cryan, the current state Democratic chairman and a local assemblyman. Lesniak has proven his ability to prevail in this sort of situation, but that outcome is hardly etched in stone. How the Union line shakes out could go a long way toward determining who wins the primary in June.
Middlesex is another weird one that could go to Andrews, even though it was technically already awarded to Lautenberg. It's all subject to change now that some of the county's most influential Democrats—State Senators Robert Smith, Barbara Buono and Joe Vitale—seem to be lining up with Andrews. Norcross has some sway in Middlesex, thanks to State Senate politics (talk of an alliance between the bloc of South Jersey Democrats in the State Senate and the trio from Middlesex) and the remnants of his alliance with the county's now-imprisoned old boss, John Lynch.
Under one scenario, the Middlesex line might simply be revoked from Lautenberg and handed to Andrews. But Lautenberg is pushing back and seems to have the support of Joe Spicuzzo, the county chairman. Lautenberg could hold on to the line, with Andrews and his allies then assembling their own highly credible rival ballot column. But still another scenario has Spicuzzo, worried about the threat of dueling primary lines to his slate of county candidates, creating a separate ballot column just for the Senate candidates and running the rest of the organization's down-ballot county candidates in a column without a Senate candidate. No matter how this is resolved, Andrews has clearly made inroads in Middlesex and will be able to compete with Lautenberg there on at least equal footing.
But with Middlesex and potentially credible lines in Hudson and Essex—and especially if he gets Union—Andrews should have enough organizational support outside of South Jersey to be in the running in June. In which case the outcome may actually end up being decided by … the issues.